Most homes in the UK have plenty of carpets, but many vacuums struggle to dig deep into fibres. This limits the dust, dirt and hair a vacuum can remove. In this article, we've listed the 5 best vacuum cleaners for carpeted floors.
#1 Pick: Miele C3 Cat & Dog Plus
Carpets present a difficult challenge for many vacuums.
While all vacuum cleaners can provide a surface-level clean, poor-quality models struggle to remove dirt or fine dust that's ground into fibres. Pet hair wound around carpet fibres is another problem many vacuums can't handle.
Fortunately, there are some excellent options​ if you're tired of your vacuum leaving behind dust in carpets. We've put together a list of our five favourites below. Each provides great value for money and, most importantly, are brilliant at cleaning carpets.
What to Look for in a Vacuum?​
Before we get to the reviews, let's talk about what we look for in a high-quality vacuum cleaner that excels at carpets. These are also the main considerations you should be aware of when buying.
Cleaning Performance. The most important factor when choosing a vacuum is its cleaning performance. This includes how well it picks up debris of varying size (from cereal down to fine dust) and how it performs on a variety of surfaces. The vacuum cleaners on this page all have excellent cleaning performance on carpets.
Floor Heads. While vacuum manufacturers like to boast about the strength of their model's motor, it's often the floor head design that makes the difference when it comes to cleaning. Look for models with an effective floor head on carpets – preferably with strong brush bar power. Some models also come with multiple floor heads for different surfaces, which can be useful if you have a mixture of hardwood, vinyl and carpeted floors.
Ease of Use. A vacuum might have the strongest suction, but if it's heavy and difficult to use it'll be frustrating to clean with. The best carpet vacuums also need to be able to cover large areas of floor quickly while being easy to manoeuvre.
Filtration. All vacuum cleaners come with a filter, but the effectiveness varies greatly. For allergies, we recommend looking for a model with a HEPA filter, such as the Blizzard CX1 listed below. A bagged design is also the better choice for allergy sufferers.
While there are plenty of excellent vacuum cleaners, the most important thing is to choose a model that meets your requirements. Factors such as the type of floor in your home, pets, allergies and stairs all affect the best choice.
There are also a variety of types of carpet. ​Most vacuums struggle with deep pile, so you'll need a model with a strong brush bar if your carpets are thick and difficult to clean. On the other hand, a shag carpet requires a more delicate clean. If your carpet has a stain, you'll also probably need a steam mop or carpet cleaner. For surface cleaning, you could even consider a cheaper carpet sweeper – although they are no good for deep cleans.
In this article, we've focused on powerful vacuums that are great for deep cleaning, but be aware that these may not be suitable for delicate types of rug or carpet.
Which are the Best Vacuums for Carpets?
Listed below are five of the best vacuums for cleaning carpet. We've included several types of vacuum, along with models available for a range of budgets, to help you make the right choice for your requirements.
| Rank | Product Name | Type | Weight | Dust Capacity | Price Range | Read More |
| --- | --- | --- | --- | --- | --- | --- |
| #1 | Miele Complete C3 Cat & Dog Plus | Cylinder | 7.4kg | 4.5 litre | £££ | View Price |
| #2 | Dyson V11 Absolute | Cordless | 3.05kg | 0.76 litres | £££££ | View Price |
| #3 | Shark NV681UKT Powered Lift-Away True Pet | Upright | 6.3kg | 1.1 litre | £££ | View Price |
| #4 | Miele Blizzard CX1 Excellence PowerLine | Cylinder | 6.5kg | 2 litres | £££ | View Price |
| #5 | Numatic Henry Pet PET200 | Cylinder | 8kg | 9 litres | ££ | View Price |
Best Cylinder Vacuum for Carpet: Miele Complete C3 Cat & Dog Plus
One of our top-rated cylinder vacuum cleaners is the excellent Miele C3 Cat & Dog Plus. It's a bagged vacuum that comes with a universal floorhead, turbo brush (which excels on carpets) and AirClean filtration. The C3 is also cheaper than the bagless CX1 Blizzard range.
The C3 Cat & Dog Plus comes with two primary tools. The first is the universal floor head, which is great for general cleaning – especially on hard floors – but doesn't have a powered brush bar. The vacuum also includes a smaller turbo brush, which is fantastic for digging into carpets and getting rid of more dirt and hair. Most importantly for this article, the vacuum cleaner has enough suction to provide excellent carpet pickup.
An additional feature for pet owners is Miele's Active AirClean filter. This is great for removing allergens from the air, but also includes an activated charcoal layer for absorbing odours. If you suffer from allergies, however, then the C3 Total Solution Allergy has many of the same features but also comes with a HEPA13 filter.
While cylinder vacuums typically aren't as quick to clean large areas of floor as uprights, the C3 is easy to manoeuvre and enjoyable to use.​ The set of tools and extra ease of use features, such as the one touch cable rewind, show that Miele have thought of almost everything with this model.
Overall, the Miele Complete C3 Cat & Dog Plus isn't just one of the best vacuum cleaners for carpets – it's one of the best vacuums all-round. While some people won't like that it's a bagged vacuum (although this makes it more suitable for allergy sufferers), it's great for carpets, makes quick work of hair, and is easy to use around the home.
Note: This model is the newer version of the C3 Cat & Dog. While there are some differences, you may still want to read our full review of the original C3 Cat & Dog.​
Key Features:
Outstanding all-rounder
Excellent performance on carpets
Active AirClean filter system
Specification:
Type: Cylinder
Pet Tool: Yes
Best Cordless Vacuum for Carpet: Dyson V11 Absolute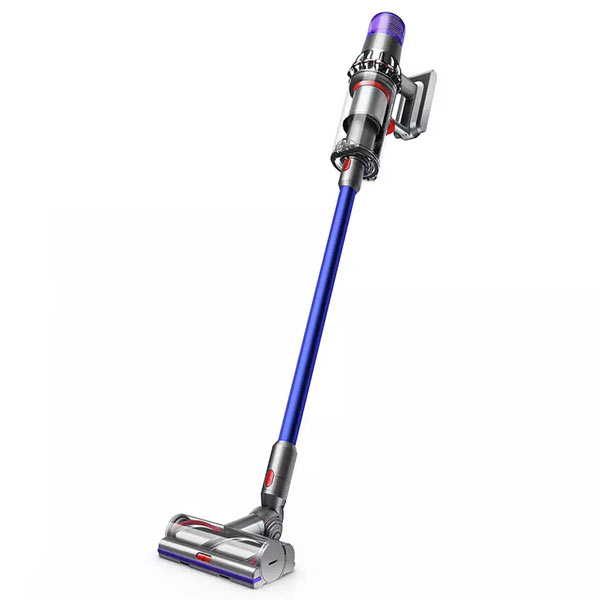 If you're looking for a cordless vacuum for carpets, then the Dyson V11 Absolute is our top pick. It's a powerful vacuum – especially for a cordless – that has a convenient handheld mode and a number of advanced features. The V11 series isn't cheap, but comes with Dyson's most powerful floorhead that's exceptional for digging deep into carpets.
The V11 Absolute comes with two floor heads to suit different floor types. The first is the new High Torque head, which has a powerful brush bar for getting rid of dirt in thick carpets. This floor head's brush roll, combined with the powerful motor, is the reason the Absolute is so effective on carpeted floors. The second floor head is the Soft Roller, which is designed to pick up both large debris and small particles from hard floors.
One of the best features of the Dyson V11 (and all Dyson cordless vacuums) is that the rigid tube can be detached to turn it into a powerful handheld. This is great for cleaning furniture or carpeted stairs. It also comes with a mini motorised tool for pet hair.
Along with strong suction and excellent performance, the V11 stick vacuum cleaner adds several advanced features to the already excellent V10 Cyclone.
These include an LCD screen, which displays the current remaining battery life, and adaptive suction. The latter feature means that the vacuum can automatically change suction power depending on the type of floor, as long as it's in "Auto" mode and using the High Torque floorhead. It also comes with several basic tools, such as a crevice tool and dusting brush.
There aren't many downsides to the V11 Absolute – aside from its price. It's one of the most expensive vacuums on the market, but it justifies this by being the best cordless available right now. If you don't want to pay this much for a vacuum, however, the V8 Absolute could be a good alternative as it's cheaper but still great on carpets. The V10 Cyclone is another cheaper alternative that shares more feature with the V11.
Overall, the Dyson V11 Absolute cordless stick vacuum provides outstanding carpet pickup. ​If you want a versatile cordless vac that can handle tricky carpets, then it's the best option.
For more details about this vacuum, read our full Dyson V11 Absolute review. For a cheaper Dyson alternative that's still great for carpets, read our review of the Dyson V8 Absolute.​
Key Features:
Redesigned floorhead excels on carpets
60 minute run-time
Adaptive suction power
Specification:
Type: Cordless
Weight: 3.05kg
Best Upright Vacuum for Carpet: Shark NV681UKT Powered Lift-Away True Pet
The Shark NV681UKT is a corded upright vacuum cleaner that combines ease of use with powerful performance. The powered brush bar digs deep into carpets, so it's great for removing dirt, dust and hair. It also comes with a powered lift-away design, turbo tool for pet hair and a highly manoeuvrable floor head.
Shark is an underrated brand in the UK for vacuum cleaners, as they produce some excellent machines. The NV681UKT is a great example, as it provides strong cleaning performance on almost any type of floor (although it's let down slightly on laminate).
As you've probably guessed from the name, the NV681UKT features a lift-away design. This allows you to detach the canister and hold it in one hand, while using the powered floor head in the other. The lift-away feature is particularly useful for cleaning stairs or under furniture, and you can combine it with the turbo tool for getting rid of hair on upholstery.
A number of other features are included with this vac. Shark has added LED lights to the floor head to illuminate dirt on carpets, along with crevice, upholstery and duster tools. The floor head is also attached via a manoeuvrable swivel pivot, allowing you to clean around furniture with ease.
Shark claims it can prevent 99.9% of allergens escaping, due to the combination of foam and HEPA filters. This is fine for most people, but if you suffer from a dust or pet allergy we recommend looking for bagged vacuum. It's also a relatively heavy vacuum and can struggle on laminate – although it excels at carpet cleaning.
In summary, the Shark NV681UKT Lift Away True Pet is an excellent vacuum for carpets. The powerful suction and brush bar remove plenty of dust and dirt from fibres. We also like the manoeuvrable design and lift-away feature, which makes the ​vacuum cleaner more convenient than many other uprights.
Note: If you don't have pets, the Shark NV681UK is a cheaper model that doesn't come with the turbo tool attachment.​
Key Features:
Powerful carpet cleaning performance
Lift-away canister for greater mobility
Swivel steering floor head
Specification:
Type: Upright
Weight: 6.3kg
Best Bagless Cylinder Vacuum for Carpet: Miele Blizzard CX1 Excellence PowerLine
The Blizzard CX1 series is Miele's first entry into the bagless vacuum cleaner market – and it's a fantastic start. The Excellence PowerLine is great for carpet cleaning due to its strong suction and floor head design. It also comes with a HEPA filter and a set of handy integrated tools.
Miele took a long time to release a bagless vacuum, but the CX1 is worth the wait. This cylinder vacuum designed with the company's brand-new Vortex Technology system for strong suction powered by a 900W motor. The system also prevents suction dropping as the canister fills.
The Vortex system is the first stage of three-part filtration system, which includes a HEPA AirClean filter. This removes 99.9% of fine dust, and is the reason the vacuum has been endorsed by Allergy UK. A bonus feature is the "Comfort Clean" system, which automatically cleans the filter when it starts to clog.
There are a few drawbacks though. The outstanding suction can sometimes be a problem, as it can be difficult to push on thick pile carpets. Fortunately, Miele realised this and has included a power setting so you can reduce suction when required. It's also a relatively heavy vacuum, which is something to keep in mind if you're going to be carrying it up and down stairs, and struggles with pet hair.
Most importantly for this page, the Miele is one of the best vacuums for getting rid of dust and dirt trapped in thick carpet fibres. It's also easy to manoeuvre around floors, making it a joy to use throughout your home.
Note: There are two other CX1 models – Comfort and Cat & Dog. The Cat & Dog version includes a turbo brush for pet hair on upholstery and stairs, so is the better option if you have a pet that sheds.
Key Features:
Excellent bagless cylinder vacuum
Strong suction and great carpet performance
Three-stage filtration system
Specification:
Type: Cylinder
Weight: 6.5kg
Best Budget Vacuum for Carpet: Numatic Henry Pet PET200
Everyone has heard of the Henry Hoover, but the Henry Pet PET200 is a better choice for people who want stronger carpet cleaning performance. The Henry Pet has the same features as the standard Henry, but also includes a charcoal filter and Numatic's HairoBrush floor tool. While these features are great for pet owners, the new floor tool improves the vacuum's all-round carpet performance regardless of whether you have pets.
As you probably know, the Numatic Henry Hoover range is designed to be a "no-nonsense" vacuum cleaner. While the model has always provided powerful suction, a huge capacity and easy manoeuvrability, it doesn't come with many extra or advanced features.
In most ways, the Henry Pet is the same. The ​biggest difference is that it comes with Numatic's "HairoBrush" floor tool (also sometimes called EcoBrush 190.) This is effectively a turbo tool with a motorised bar, and is fantastic for cleaning carpets more thoroughly than the original Henry. It's also great for getting rid of pet hair.
Other features include an activated charcoal filter, which minimises odours released by the vacuum, and HepaFlo bags. It's also a surprisingly quiet vacuum and has excellent energy efficiency.
There are some minor niggles with the Henry Pet. The motorised tool is great for cleaning carpets, but it's thinner than a standard floor head. The circular shape of all Henry vacuums also makes it difficult to balance on stairs – although the stretch hose somewhat makes up for this.​
In summary, the Henry Pet PET200 is a great vacuum for cleaning carpets – especially considering the low price. It doesn't have advanced features and can be difficult to use on stairs, but for floor cleaning there aren't many vacuum cleaners that can ​match its value for money.
Note: The Henry Pet has replaced the Numatic Harry, but shares many of the same features. Read our full review of the Harry.​
Key Features:
Floor tool improves performance on carpets
4 wheels for extra mobility
Surprisingly quiet for such a powerful vacuum
Specification:
Type: Cylinder
Weight: 8kg
Summary
Many vacuum cleaners struggle with thick pile carpets – especially if dust or hair has been ground into fibres. The good news is that the best vacuum cleaners for carpets can make short work of most cleaning tasks, leaving you with a clean and dust-free carpet.
Our top pick in this category is the Miele C3 Cat & Dog Plus.​ It's a powerful bagged vacuum that has great carpet performance. It's also cheaper than the Dyson V11 or other high-end cordless models.
Do you have any questions about choosing a carpet vacuum cleaner? Or do you think we've missed a model that should be on this list? Let us know in the comments!​
We're sorry you didn't find this article useful!
Please tell us how we can improve this content in the box below: