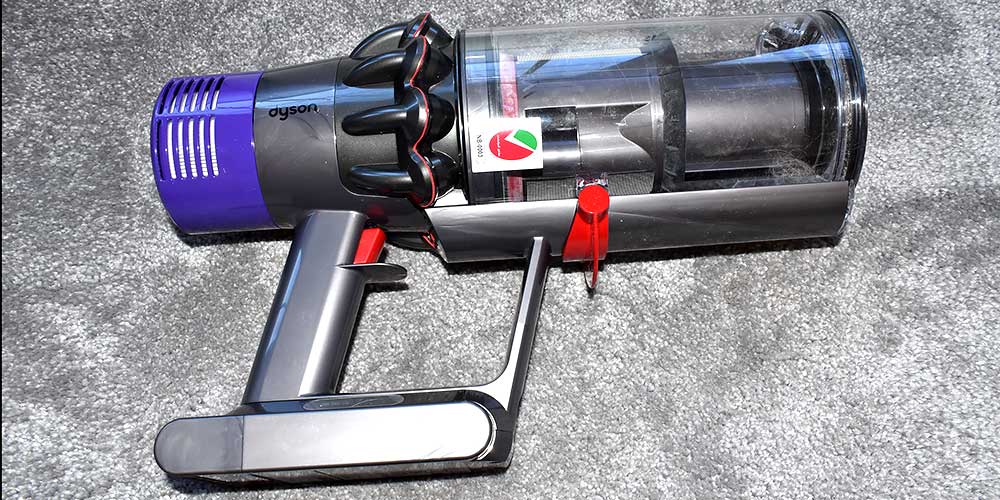 Does your Dyson V10 Cyclone need a new battery? Here's a simple guide to replacing a V10 battery and restoring the vacuum's performance.
Many people believe that Dyson V10 batteries are not replaceable, but this isn't true. The batteries aren't swappable, so you can't change to a second battery while cleaning, but they are certainly replaceable.
Dyson batteries typically last anywhere from 2-6 years. However, like all lithium-ion batteries, they eventually need to be replaced.
In this article, we'll show you how to replace a Dyson V10 battery. Fortunately, Dyson has made replacing the V10's battery a quick process, so you'll only need a few minutes!
Note: These instructions are specifically for the Dyson Cyclone V10, but they also apply to the V11 (which has a similar design). If you have a Dyson V8, make sure you follow our separate guide to replacing a V8 battery.
What You'll Need
Genuine replacement Dyson V10 battery
Small Phillips screwdriver
Step 1: Buy a Replacement Cyclone V10 Battery
The best place to buy a replacement Dyson Cyclone V10 battery is via the Dyson.co.uk website, as this guarantees that you're getting a genuine battery. At the time of writing, these cost around £80.
We always recommend genuine replacement components rather than cheaper OEM batteries. Genuine Dyson batteries are built to meet the company's high standards, so you can be sure they won't damage your machine. Using a third-party battery could also affect your Dyson V10's warranty.
Step 2: Prepare Your Vacuum
Whenever you're performing maintenance on a vacuum cleaner, it's vital to check that the machine isn't plugged in. Trying to remove the battery while the charger is still attached could risk a serious electric shock.
We also recommend detaching the wand and any tools from the Dyson V10 at this point. It's much easier to replace the battery when you're only dealing with the main body.
Step 3: Unscrew And Remove The Old Battery
There are three screws that hold the Dyson V10's battery in position. You'll need to remove each of these with a small Philips screwdriver to take out the old battery.
It's important to use the right size screwdriver for this part of the process. You don't want to accidentally strip the screws, as this makes the battery difficult to remove.
The first screw is located on the rear of the handle. The other two are on found on the bottom of the battery. Make sure you place the screws in a safe place, as you'll need them later.
Once each of the screws has been removed, the V10 battery should slide out of the bottom of the vacuum's handle. Ensure you follow your local laws when disposing of the old battery.
Tip: The two bottom screws are designed to be at an angle. Keep this in mind when replacing them during the next step.
Step 4: Attach And Secure The New Battery
Now that the old battery has been removed, you can slide the new one into the handle. Use the existing screws (or those supplied with the battery) to secure it into position.
Again, remember that the bottom screws are meant to be at an angle. Don't try to force them into a straight position!
Step 5: Fully Charge The Vacuum
A new Dyson battery will only be partially charged, so it's important to fully recharge it before first use.
Once the battery is fully charged, you're ready to use your vacuum again!
Frequently Asked Questions
Can The Dyson V10 Battery Be Replaced?
Yes, they can be replaced. As you can tell from the process above, replacing a Dyson V10 battery is simply a case of unscrewing the old one, removing it, and then fitting the new battery.
There is a common misconception that Dyson batteries aren't replaceable, but this simply isn't true for most of the company's cordless range.
Does The Dyson V10 Cyclone Have A Swappable Battery?
No, the standard Dyson V10 Cyclone does not have a swappable battery. The battery can be replaced, but it's not designed to be swapped during cleaning to extend the vacuum's run-time.
Some of the newest Dyson cordless vacuums do have this feature though.
How Long Does a Dyson Battery Last?
This is an impossible question to answer with any real accuracy, as the lifespan of a Dyson battery depends on many factors. These include where the battery is stored, whether it's allowed to occasionally run to empty, how often the high power mode is used, and whether the battery is allowed to cool after use.
In general, you can expect a Dyson battery to last at least two years, but they often last much longer when cared for correctly.
Summary
Don't let anyone tell you that Dyson cordless vacuum batteries can't be replaced! In fact, replacing a Dyson V10 battery is a simple process that only takes a few minutes.
It's important only to buy genuine Dyson batteries though. These are built to Dyson's high standards and are optimised to work with your V10.
We hope this article has helped you learn how to replace a Dyson V10 battery. If you have any questions, please use the comments section. We've also written a guide to swapping the Dyson V11's battery.