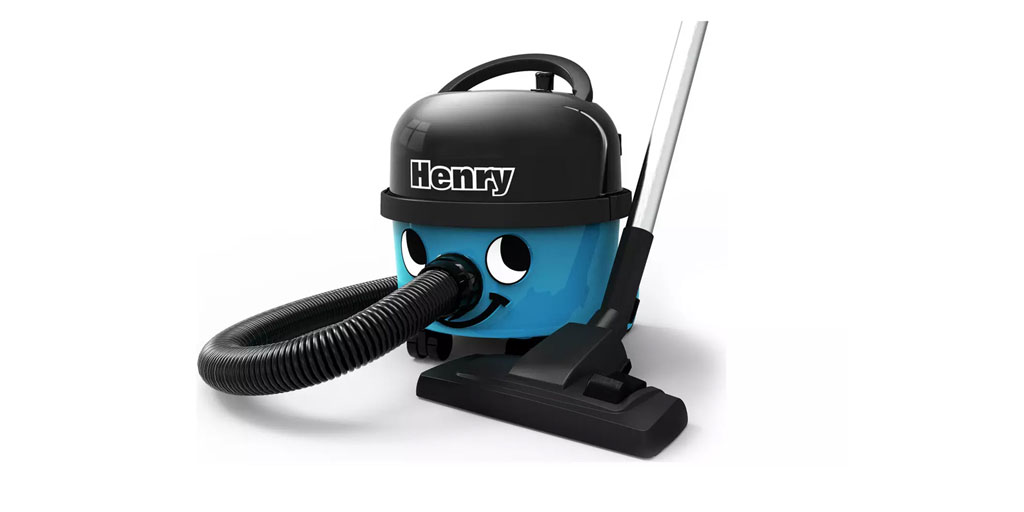 Where are Henry vacuum cleaners made? And are any of Numatic's vacuums still built in the UK? Keep reading to find out!
Henry vacuum cleaners are manufactured by Numatic International. Nearly all versions of Henry vacuums are still built in the UK, with the exception being the Henry Quick cordless vacuum series.
In fact, the Henry range is the only vacuum cleaner still mass-produced in the UK, as other companies have moved their manufacturing to Asia. Numatic has built over 15 million Henrys in the UK so far and is in the process of expanding their Somerset production sites.
Let's take a closer look at where Henry vacuums are made, what makes them different from other vacuums, and whether you should buy them.
Note: We've used the popular "Henry Hoover" name as the title of this post, as this is how many people know the vacuum. However, "Hoover" is actually a trademarked word, so the real name is the "Henry vacuum cleaner" or "Numatic Henry".
Where Are Henry Vacuum Cleaners Made?
Most Henry vacuum cleaners are currently manufactured at a large factory in Chard, Somerset. The only exception is the Henry Quick cordless vacuum, which is now being manufactured in China.
According to the MyHenry website, the Chard factory is situated on a 26-acre plot of land and employs over 1,100 people. Having such a large facility allows Numatic to produce a wide range of different vacuums on a single site, including both the domestic Henry range and Numatic's commercial products.
At the time of writing, it's estimated that Numatic produces around 6000 vacuum cleaners each day. The factory runs 24-hours a day and builds vacuums that are sold around the world.
A New Factory For Numatic?
Interestingly, we've read plans for a new Henry factory in Somerset. These were revealed in 2022 when Numatic submitted planning permission for a 23,820-square-metre manufacturing plant specifically for Henry vacuums. The factory would create hundreds of new jobs in the local area.
Numatic needs the new plant to keep up with the increased demand for their Henry vacuums. So, it seems like the future of Numatic's British manufacturing is secure. Even so, the demand for Henry vacuums has meant that Numatic is now manufacturing their cordless Henry Quick series in China.
Where Are Numatic's Headquarters?
Numatic's headquarters are currently located in Chard, Somerset.
While the company has always been in the Somerset area, it only moved to its current location in 1990. It was originally founded in a small production site in Crewkerne, before moving to Yeovil, and then Beaminster in Dorset.
By the end of the 1980s, the success of the Henry range meant that Numatic needed more production capacity. The company also wanted to build more of its vacuum components from scratch, which is why it moved to the Chard facility.
When Was Numatic Founded?
Numatic was founded in 1969 in Crewkerne, Somerset. The company had humble beginnings, with production taking place in a tiny facility with just six employees and a single drill.
At the time, Numatic was focused on building a vacuum for cleaning coal, gas, and oil boilers. The Henry vacuum range wasn't developed until 1981, when the company was based in Beaminster.
Why Do Henry Vacuums Have Smiling Face?
We're all familiar with Henry's smile. It's one of the distinguishing features of this bagged vacuum cleaner and a big part of why it's become such a recognisable product.
The vacuum's face originated at a trade show in the mid-70s. Chris Duncan, the founder of Numatic, decided to "dress up" one of their commercial vacuum cleaners in an attempt to get more attention.
Visitors to the show enjoyed the design, so Duncan decided to ask some of his employees to design a real face. The vacuum was nicknamed "Henry" – and the name stuck.
Who Owns Numatic?
Numatic is still owned by the company's founder, Chris Duncan. It's a private limited company and Mr Duncan retains sole ownership.
Do Numatic Have Offices Around The World?
At the time of writing, Numatic owns four international distributors. These are located in South Africa, German, France, and the Netherlands.
Are Henry Vacuums Easy To Maintain?
All vacuum cleaners require maintenance and the Henry is no exception. With that said, we've found it a relatively easy vacuum to maintain, as long as you keep the Henry filter clean and empty the bag before it's full. You'll also need to buy replacement bags.
Frequently Asked Questions
What Makes Henry Vacuums Stand Out?
We're big fans of the Numatic Henry range at Spotless Vacuum. Henry isn't as mobile or convenient as modern cordless vacuums, but the range is powerful, easy to use, and durable.
Longevity is another reason to buy Henry vacuums. Numatic builds vacuums that can handle tough jobs without breaking down, as long as the machine is used correctly. They are built to last and rarely need to be replaced.
Even if something breaks, Numatic prides itself on being able to offer replacement parts to any vacuum they've ever produced – dating back to their first every model. That's quite a claim!
Which Vacuums Are Included In The Henry Range?
There are many vacuums included in the Henry range beyond the standard Henry. Examples include Harry for pet owners, Charles for wet and dry vacuuming, and the Henry XL Plus for big cleaning jobs. There's even a Henry cordless model, which has a very different design to most cordless alternatives.
Sadly, there are also many models in the Henry family that have been discontinued. A few examples include the David, William, and Edward Numatic vacuum cleaners.
Numatic also produces many commercial and industrial vacuum cleaners. These often have stronger chassis, larger capacities, and filters designed to handle industrial materials.
Summary
If you're looking for a vacuum cleaner that's built in the UK, then Henry is really the only option. Numatic is the one company that still mass-produces most of their vacuums in the UK, as brands such as Dyson, Vax, and Hoover have all moved their production to China or other parts of Asia. The exception is the Henry Quick, which is manufactured in China.
The good news is that the Henry vacuum cleaner range is an excellent choice for home cleaning. We've found these vacuums to be powerful, highly durable, and great for both carpets and hard floors. Check out our Henry vacuum review or our Henry range comparison to learn more.
Do you have any questions about where Henry vacuum cleaners are manufactured? Or would you like to learn more about this vacuum? Let us know in the comments section.