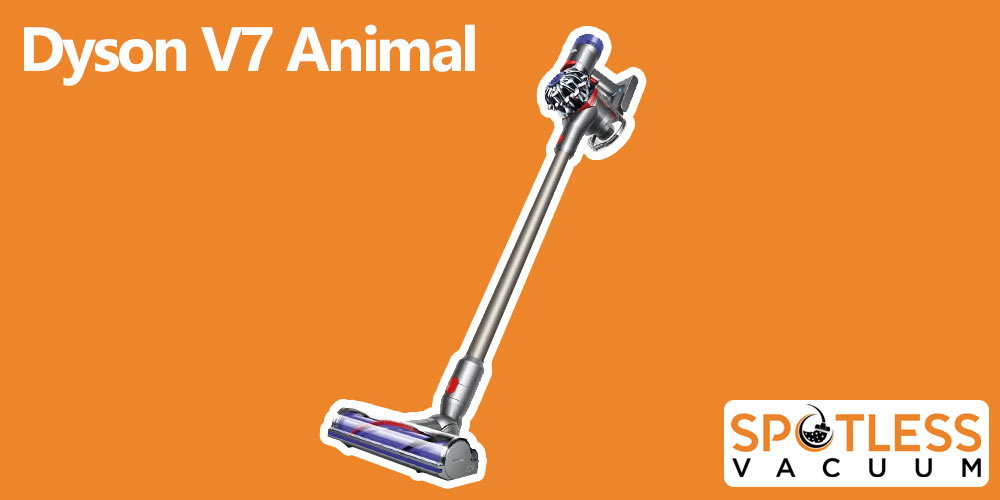 Our Verdict: The Dyson V7 Animal is a great choice if you need a more affordable alternative to premium cordless vacuums. We love the easy-to-use design and think it provides strong performance for the price. It can't match the cleaning power of the best cordless vacuums, but you wouldn't expect it to at this price.
Pros:
Excellent for cleaning carpets compared to other cordless vacuums in this price range
Versatile and easy to use
Mini-motorised tool is great for pet hair
Longer battery life than the V6
Lightweight
Cons:
Trigger system can be tiring
Pushes around large debris on hard floors
Brush bar can't be switched off
Can't match premium cordless vacuums for cleaning performance
The Dyson V7 Animal is one of Dyson's cheapest cordless vacuums. It still has a hefty price tag though – is it worth the money? And how does it compare to other cordless vacs? Let's find out.
The Dyson V7 Animal is at the lower-end of Dyson's cordless range. It's not the cheapest – that award goes to the V7 Motorhead, at the time of this review – but costs considerably less than the V8, V10 and V11.
Despite being cheaper, the V7 includes many of the same features as more expensive Dyson vacs. These include a powerful digital motor, stick/handheld design, and a rotating brush bar.
In this Dyson V7 Animal review, we've put this popular model through a series of tests to help you decide whether it's the right choice for your home.
Note: This review follows our updated review process for 2019. Previous reviews for other vacuums used a different process, so the scoring may not be directly comparable. We purchased the V7 Animal ourselves – we didn't receive a free review model.
Appearance and Design
The V7 Animal is a sleek vacuum cleaner. The purple tube and red trimmings make it an attractive machine that doesn't look out of place in a modern home. No-one buys a vacuum for its appearance, but an appealing design is a bonus.
It has all the design features we've come to expect from a Dyson cordless. The V7 Animal is a stick vacuum with two-tier radial cyclones for maintaining suction, a dust canister in the handle, and a detachable handheld mode. It also comes with a rotating brush bar and washable filter, along with two power modes.
If you've used the V8, the V7 is slightly smaller and (very) slightly lighter. It has the same 0.54 litre bin capacity and emptying system though.
General Usage
The V7 is a joy to use around the home. The combination of stick and handheld modes mean it's suitable for cleaning almost anywhere, including ceilings, floors, stairs and car interiors. We found it particularly useful for vacuuming under tables and other furniture, as the stick can nearly be laid flat against the floor.
It also comes with a range of tools. These include crevice, combination, soft dusting and mini-motorised tools. As with most Dyson cordless models, there's a docking station for charging and tool storage.
To put it another way, when it comes to versatility and convenience, the Dyson V series is hard to beat. And, like all Dyson cordless vacs, it provides excellent suction (more on that in a later section).
There are a few downsides to the V7's design though.
Dyson also hasn't included the option of turning off the brush bar when using the direct-drive cleaner head. While the floor tool is still suitable for hard floors, for delicate surfaces we recommend buying a model that includes the "Fluffy" floor tool.
The V7 also uses Dyson's trigger system, which means you need to hold down the trigger when cleaning. Dyson includes this feature so the battery only runs down when you're actually cleaning, but it can be tiring – especially if you have joint problems. We found it particularly difficult to hold down on stairs in handheld mode, as you need to constantly turn at sharp angles while holding the trigger.
Size
The V7 Animal is a lightweight vacuum. At just 2.3kg, it's easy to carry around the home. We felt the body is a little bit bulkier than we would like, but it feels balanced and comfortable to use.
With a floorhead width of approximately 25cm, it's not as wide as many corded uprights. This makes it easier to manoeuvre and lightweight, but at the expense of being slightly more time-consuming when cleaning large areas. This is only a problem in huge rooms though.
Noise Output
Officially, Dyson claims the V7 Animal has a noise output of 85dB when on max mode. This is loud – the EU limits all corded vacuums to less than 80dB – but the standard mode is noticeably quieter. As the V7 provides plenty of suction in standard mode, this is what you'll be using most of the time.
We test each vacuum's noise output at a distance of approximately one metre. At this distance, our sound meter picked up:
Standard mode – 68dB
Max mode – 77dB
Standard mode is surprisingly quiet. It's not the quietest vacuum we've seen, and you're unlikely to have a conversation when cleaning, but it's not uncomfortably loud. We also think it's quieter than the previous V6. "Max" mode is considerably louder – but is only meant for short bursts.
Ease of Use
Dyson has done a great job of making the V7 easy to use. The "Quick Release" tool catches, for example, are a big improvement on the V6's design, so you won't struggle to take them on or off. Assembly is also straightforward, as you just need to clip the floorhead, stick and body together.
We didn't notice the vacuum losing suction as the bin fills up – as long as you stay below the "Maximum" line. Dyson's cyclonic technology is excellent for maintaining strong suction throughout your cleaning session.
The direct-drive floor tool is easy to manoeuvre around and under furniture. It feels smooth and balanced when in use, so you're not fighting the vacuum. We also found it comfortable to manoeuvre on both carpets and hard floors.
One complaint we have is the stiffness of the bin emptying lever. This might loosen up over time, but it doesn't feel "natural" the first few times you use it. The vacuum can also be difficult to push on carpet when on "High" powered mode, but this is an indicator of the excellent suction power.
We also wish Dyson had added a friction pad to the vacuum so it can lean upright against a wall (this has been fixed on the V10 Cyclone).
Battery Life
The Dyson V7 Animal is built with a 22.5V lithium-ion battery. This has a maximum run-time of 30-minutes, but only when on standard mode and using non-motorised tools.
If you switch to a powered tool, expect the run-time to drop to around 20-25 minutes. And, if you activate "Max" power mode, the battery will only last 5-6 minutes.
Whether this is enough battery life depends on the size of your home. 20-25 minutes is probably enough for most small homes or flats, but may be too short for thoroughly cleaning a bigger house.
Keep in mind that this is "actual" cleaning time though, as the vacuum switches off whenever you release the trigger.
The "Max" power mode is really only designed for stubborn patches of dirt. We rarely felt the need to use this mode, as the "Standard" power did an excellent job at picking up almost everything. This is good news, as the short run-time in "Max" mode makes it impossible to use for anything other than single-room cleaning (although it's great for this purpose).
There's no noticeable loss in suction as the battery starts to get low. The recharging time is also relatively short, at just 3.5 hours.
Filtration
The V7 Animal has a washable filter. This can be easily removed from the top of the cylinder, and should be washed once a month (make sure it dries fully before using it again).
Unfortunately, the V7 Animal doesn't include a HEPA filter, which is found on more expensive Dyson vacuums. While the basic filter does an OK job of removing allergens from the air, a HEPA filter is always the best choice if you suffer from allergies.
A bonus is that we didn't notice any nasty smell when vacuuming. This shows that the filter is at least doing a decent job, even if it isn't HEPA.
Emptying, Cleaning and Maintenance
Emptying the dust canister is quick and easy. You simply hold the vacuum over a bin and pull a lever on top of the vacuum. This partially lifts the cylinder to push out dust and dirt, while opening the trap door at the bottom.
While the emptying system can't match the convenience of the "Point and Click" found on the Cyclone V10, it's straightforward and does a good job of removing dirt without you needing to touch it. We didn't have any trouble with dirt or fluff getting caught in the cylinder.
This is good news, as the bin fills up very quickly. When cleaning a three bedroom home, we filled up the canister to the "maximum" line three times, and this wasn't a particularly dirty house.
A slight annoyance is that the canister tends to fill up on one side first, due to gravity pulling the dust and dirt down. This means the lower edge of the canister often passes the "maximum" line before the other even starts filling up, so it's not always clear when you should empty it. We also found the lever stiffer than we would have liked.
Tools and Accessories
The Dyson V7 Animal comes with a variety of tools to help you clean more effectively. As you would expect from Dyson, these tools feel solid and well-built.
All of the tools have Dyson's "Quick Release" system. We love this system, as it makes snapping tools on and off much easier than many other vacuums.
Floorhead(s)
The Dyson V7 Animal comes with the direct-drive floorhead. This features a rotating brush bar for stirring up dust and dirt, plus an articulated neck for easy navigation. It also provides impressive brush bar power that can dislodge ground in dirt.
We'll get to the floor tests in a moment, but the direct-drive is an excellent tool that does a great job at removing dirt, fine dust, and debris from all carpets. It's also suitable for use on most hard floors.
A minor complaint about the direct-drive is that the vertical joint often gets stuck when you lift the vacuum over something. This can be annoying, but it only takes a second to force the floor tool back into the correct position. We also wish you could switch off the brush bar.
Note: Dyson's excellent Fluffy floorhead for hardwood floors is not included. For that, you'll need the V7 Total Clean.
Tools
Aside from the direct-drive floorhead, there are several tools included with the V7 Animal:
Combination tool – The non-motorised combination tool can be used as either a dusting brush or smaller hard tool, depending on what you're cleaning.
Crevice tool – The crevice tool is relatively short, but still useful for tight spots.
Soft dusting brush – This tools is great for delicate surfaces, such as keyboards.
It's worth noting that the V7 Animal doesn't include a flexible hose. This can be useful for awkward locations, such as under car seats.
Most importantly, Dyson has included the mini-motorised tool with the V7 Animal.
As the name suggests, this is a smaller tool with a rotating brush bar (stiff bristles.) It's designed for removing hair and dirt from stairs, car seats and furniture.
We're big fans of Dyson's mini-motorised tool – especially for hair. If you have pets, this tool can make cleaning stairs and furniture much less time-consuming. The only downside is that it's not as mobile as the main floorhead.
A key point is that all tools can either be attached to the floorhead or main body of the vacuum (handheld mode). This is one of the reasons why the V7 (and other "V" vacuums) are such a versatile choice.
Suction Power and Cleaning Performance
We ran several tests to see how the V7 performed on carpets and tiles. These included several different types of test materials, such as baking powder, sand, rice and cereal. We also did a "real life" test by using the V7 to clean an entire home. You can see the results below.
In terms of suction power, the V7 can't quite match the Dyson V8. On "Standard" mode it generates 21AW (Air Watts), while on "Max" mode it outputs 100AW. The V8 Absolute, for comparison, generates 28AW and 115AW.
If you're in a hurry, we found the V7 provides excellent cleaning performance – especially for a cordless vacuum. While it can't quite rival corded uprights (or Dyson's more expensive cordless vacs), it's more than capable of handling most tasks.
Carpets
As you'll see from the tests below, the Dyson V7 Animal is a great vacuum cleaner for carpets. It picks up debris and dust easily on standard mode, so we rarely needed the higher suction mode. It's also highly versatile and easy to use on carpeted stairs.
The only thing it struggled with was fluff that was ground deeply into thick pile carpets. This is a tough challenge for any vacuum, however, so a cordless is always likely to find it difficult. Even so, repeating the pass a few times and switching to "Max" mode usually did the trick – which is precisely what this mode is designed for.
It also only provides average edge cleaning capabilities. It's not bad, but won't clean right up to the edge either.
These are minor complaints though. While it can't match full corded uprights when it comes to deep cleaning, considering the price and cordless design the V7 Animal is an excellent choice for carpets.
Baking Soda Test
As you can see from the image above, the V7 had no trouble picking up the baking soda in our test. Nearly all of the powder was picked up on the first pass.
Sand
The V7 also did an excellent job with the sand test. Like the baking soda, most of the sand was picked up on the first pass.
The blue residue left on the carpet was actually a stain caused by the type of sand we were using. Luckily, it's a disposable piece of carpet!
Rice
Once again, the V7 picked up all the rice without difficulty. The extra friction from the carpet allowed the floorhead to pass over the rice and suck it up, without flinging it across the floor.
Cereal
The V7 Animal provided plenty of suction for sucking up larger debris. Nearly all of the cereal was removed from the carpet on the first pass, making the V7 an excellent all-rounder for carpets.
Hard Floors
While the Dyson V7 does an acceptable job on hard floors, it doesn't quite match the standards set by its carpet cleaning.
It's fine for smaller debris, such as dust or flour. But the rotating floorhead (which can't be switched off) tends to scatter larger objects. Some larger debris also gets caught at the front of the floorhead and pushed around.
For this reason, we don't recommend the V7 Animal if you've got lots of hardwood or tile floors in your home. In this case, you may want to spend a bit more on the V7 Total Clean, as this comes with Dyson's hard floor floorhead.
Baking Powder
As you can see, the V7 Animal did a great job of picking up nearly all of the baking powder in our test. The only part it struggled with was powder that had fallen into the cracks.
Rice
The rice test on hard floors was the first time the Dyson V7 Animal started to have difficulties. As you can imagine, the rotating brush bar scattered rice across the floor rather then picked it up, and there's no way to switch this off. So, while the V7 picked up most of the rice (around 80%), the rest was spread around the room.
You could always use the combination or crevice tool for larger debris. This is fine for spot cleaning, but would be time-consuming over a large area.
Cereal
The cereal faced a different problem. It wasn't scattered as much as the rice, but a significant portion was pushed in-front of the floorhead (see above image).
This is because the tiles don't provide any friction to "catch" the cereal under the floorhead.
Stairs
The Dyson V7 Animal is a convenient vacuum for cleaning stairs – especially when in handheld mode.
We used the mini-motorised tool for the steps, and this did a great job of removing dirt, dust, pet hair and other debris. The mini-motorised tool doesn't quite get into the corners, but the crevice tool is perfect for this.
Overall, it's hard to beat the V7 (or any Dyson cordless) for stair cleaning.
Pet Hair
Pet hair has traditionally been a challenge for cordless vacuums, but the V7 provides strong performance when cleaning cat, dog and even human hair.
We found that it was capable of sucking up short hair that had been ground into carpets and rugs – even when on "Standard" suction mode. It also pulled up long hair fairly easily.
As we mentioned earlier, the mini motorised tool is excellent at removing hair on stairs and upholstery.
Large Debris
On carpets, the V7 Animal does a great job at removing large debris – often in a single pass.
It has issues on hard floors though (see the "Hard Floor" section for more details). While it has enough suction to pick up the majority of debris, there is still a significant amount of "snow ploughing" and scattering. We had to mark it down to 6/10 in this category to account for this.
Price and Value for Money
There's no doubt that the Dyson V7 Animal is an expensive vacuum cleaner. It's one of the cheapest Dyson cordless vacs, but the company is known for their pricey products.
We still think it provides plenty of value though. The performance is excellent, and it provides many of the benefits of more expensive cordless vacuums for a lower price. It's currently one of the cheapest ways to benefit from the convenience of the Dyson "V" series.
Specification Table
| Ninja Column 1 | Ninja Column 2 |
| --- | --- |
| Battery | 22.5V |
| Battery Type | Lithium-Ion |
| Bagless/Bagged | Bagless |
| Max Run-Time | 30 minutes |
| Charge Time | 3.5 hours |
| Weight | 2.3kg |
| Capacity | 0.54 litres |
| Filter | Washable |
| HEPA Filter | No |
| Motorised Pet Tool | Yes |
| Handheld Mode | Yes |
| Floorhead Width | 25cm |
Comparison with Other Vacuums
Dyson V7 Vs V8 – Which is Better?
We've extensively compared the V7 and V8 vacuums, so for a detailed answer we recommend reading that page.
In short, the V8 is the better vacuum cleaner. It has a more powerful motor, longer 40-minute battery life, and a more effective filtration system. The V7 is a cheaper option that still provides excellent performance though.
Frequently Asked Questions
Can I Leave the Dyson V7 on Charge?
The Dyson V7 Animal's charger cuts out when the battery is fully-charged. You won't damage the battery or machine by leaving the charger plugged in.
This might seem like a small feature, but means the vacuum is always ready when you need it.
Can it Clean Car Interiors?
The handheld mode and tools of the V7 make it a decent choice for car cleaning. It doesn't have a flexible hose, however, which may make cleaning under seats tricky.
Verdict and Who Should Buy
As you can probably tell from this Dyson V7 Animal review, we're big fans of this vacuum. It provides excellent cleaning performance on carpets and does a decent job on hard floors. It's also easy to use, has a variety of "Quick Release" tools, and doesn't require much maintenance.
Who should buy it though?
If you want a Dyson cordless but don't want to splurge on the V8, V10 or V11, the V7 Animal provides similar performance for a lower price. The 30-minute battery life is perfect for small homes or flats, while the suction power is enough for almost any job. It's also great if most of your home is carpeted, as it excels on this type of floor.
If you have a large home, the longer battery life of the V8 might be worth spending extra for though. And if you have a lot of hardwood or tile flooring, the V7 Total Clean is the better choice, as it comes with the "Fluffy" floor tool. We also don't recommend the V7 if you suffer from allergies, as it doesn't have a HEPA filter and dust can escape during the emptying process.
Dyson V7 Animal Summary