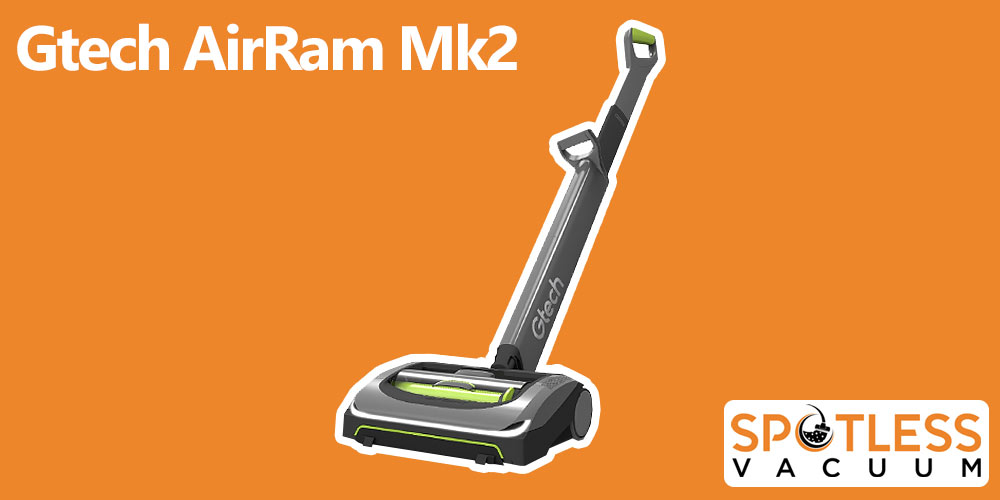 Our Verdict: The Gtech AirRam Mk2 is a convenient cordless vacuum for cleaning both hard floors and carpets. The Gtech is also easy to manoeuvre and simple to use. However, it's not capable of above-floor cleaning, which limits the vacuum's usefulness around the home. It's much cheaper than many cordless vacuums and provides decent cleaning performance though, so it's still an option to consider.
Pros:
40-minute maximum run-time is above-average for cordless models in this price range
Highly manoeuvrable and easy to push around the home
Bin is easy to empty
Headlights to illuminate dust and dirt
Great for cleaning hard floors
Cons:
Lack of tools makes it less versatile than stick vacuums
Not the best at cleaning thick carpets
Struggles to pick up pet hair
The Gtech AirRam Mk2 is a follow-up to the highly popular original AirRam. It has a similar style to its predecessor, but with an improved design and several new features.
We think the AirRam Mk2 is a solid cordless vacuum that's great for cleaning hard floors. It's also lightweight, manoeuvrable, and easy to empty. It struggles more with carpets and pet hair though – and the lack of any tools or accessories limits its versatility.
Let's take a closer look at how the Gtech AirRam Mk2 performs on carpets, stairs, hard floors, and other areas of the home. We'll also compare it to cordless vacuums from brands such as Dyson and Tineco to help you make the right choice for your home.
Overview of Gtech AirRam Mk2 Cordless Vacuum Cleaner
40-minute battery life from a four-hour charge
Headlights show up more dust and dirt
New bin design that's easy and hygienic to empty
AirLOC system to improve large debris pickup
0.8 litre dust capacity is relatively large for a cordless
2-year guarantee from the manufacturer
In-Depth Gtech AirRam Mk2 Review
If you haven't seen the original AirRam, the Gtech AirRam Mk2 is a cordless vacuum cleaner that's built specifically for cleaning floors.
While other cordless models on the market, such as the Dyson V range, have detachable handheld modes to provide "full home" cleaning, the AirRam is effectively a cordless upright vacuum but without a hose. It also adds several new features, such as LED headlights, low profile floorhead, and a redesigned suction system.
Gtech AirRam Mk2 Appearance, Features, and Design
The first difference we noticed between the Gtech AirRam Mk2 and original AirRam is the colour scheme. While its predecessor had a bland grey colour palette, the Mk2 adds a welcome splash of green. It also has a redesigned floor head, which we'll talk about shortly.
Aside from the colour scheme and new floor head, the appearance of the Gtech AirRam Mk2 is very similar to the original. It has a collapsible handle, allowing for easy storage, and simple controls.
With a weight of 3.3kg, the AirRam Mk2 is reasonably heavy for a cordless. For comparison, the Dyson V10 Absolute only weighs 2.6kg. However, this is less of an issue with the AirRam Mk2, as you won't be holding it up for above-floor cleaning anyway.
Unfortunately, the vacuum feels quite "plasticky" – although it's still a sturdy cordless vacuum cleaner that should last a long time.
We found the Gtech AirRamMk2 to be easy to steer around the home. The handle itself can rotate and there's a joint between the floor head and attachment.
While this might not sound like a major feature, it makes the Gtech AirRam Mk2 highly manoeuvrable and a pleasure to use. The fact that the motor is in the floor head also improves balance. You never feel as if you're battling the Mk2, which can sometimes be the case with bulkier models.
Something we like about the AirRam Mk2 is that it can recline almost down to horizontal. This allows you to clean under furniture, such as sofas or tables, much more easily. There's also an LED light to illuminate dust and dirt, which is always a useful extra.
One of the downsides to both versions of the AirRam is the lack of an extension hose. This, combined with the upright design and lack of a detachable handheld vacuum mode, means the AirRam is only suitable for cleaning floors. While we understand Gtech has made a conscious decision not to include a hose or detachable handheld, it greatly reduces the vacuum's versatility compared to cordless stick models.
While many people compare the AirRam to the Dyson series of vacuums, we don't think this is a great comparison. Dyson vacuums are far more versatile, as they can be used as both a stick vacuum cleaner and a handheld. In contrast, the Gtech is purely for floors – although admittedly at a cheaper price point.
There are advantages to the Mk2's design too. Unlike many vacuums, it doesn't have a typical dust canister. Instead, dirt is compressed into a container inside the floor head. Gtech estimates that the storage capacity is 0.8 litres, which is fairly large for a cordless – but we still found it requires regular emptying.
The good news is that emptying is quick and easy – plus it's more hygienic than many cordless vacuums with a simple bin design. Instead of just tipping the dirt into the bin, a slider is used to forcibly remove it. We like this feature, as it means you don't need to get your hands dirty trying to pull out the last bits of dust and dirt.
Tip: If you love the AirRam but need a vacuum cleaner for above-floor cleaning, check out our review of the Gtech Multi Mk2. It's an excellent complement to the AirRam.
Gtech AirRam Mk2 Suction Power and Performance
We'll get into the details later, but to summarise this section we found the AirRam Mk2 to be great for hard floors and short-pile carpets. It's not the best for deep pile carpets or pet hair though.
One of the great things about the Gtech AirRam Mk2 is the powerful brush bar. While many cheaper cordless vacuums struggle to agitate carpet fibres or remove stubborn dirt, the Mk2 has no such trouble. This is important, as the raw suction power of the machine is actually low due to its design.
In fact, the brush bar is so powerful that it can move the vacuum cleaner forward on its own. This makes cleaning hard floors very easy, as the machine feels like it's gliding across the surface.
While the cleaning performance is very good on hard floors, the Mk2 struggles a little more with carpets. We still think it provides decent dust and dirt pickup, but it can't match the power of the best upright vacuums (check out our list of the best vacuums for carpets if carpet pickup is your primary concern).
Like many cordless vacuums, it also has difficulty removing pet hair that's been caught in carpet fibres. Clumps of hair or fluff that have become ground into carpet are often not picked up by the Gtech, which is a problem if you have a cat or dog.
Another task this vacuum struggles with is larger debris. These often don't fit easily under the flap at the front of the floorhead, while the vacuum doesn't have enough suction strength to lift them up. As the vacuum also doesn't have a hose or crevice tool attachment, this is a bigger problem than with other models.
We're also surprised that the vacuum doesn't come with a height adjustment feature when switching between carpets and hard floors. This isn't a standard feature on cordless vacuums by any means, but is common on corded vacuums.
Of course, the lack of a hose or handheld mode means it's not a great choice for cleaning stairs. The lightweight design means it's possible to clean stairs, but cordless vacuums with a handheld mode are much more convenient for this task. The same is true for upholstery and car interiors.
Gtech AirRam Mk2 Battery Life
Like the original AirRam, the Gtech AirRam Mk2 uses a 22V lithium-ion battery. Lithium-ion batteries have a number of advantages, including consistent power throughout their run-time. It has to be said that nearly all modern cordless vacuums use lithium-ion batteries though, so this isn't really a plus point for the AirRam.
This means the vacuum doesn't lose suction power as the battery gets lower. Lithium-ion batteries also charge faster, so the Mk2 only requires 4 hours charge time to recharge. This is faster than many other cordless vacuums, although not the fastest we've reviewed.
The run-time is 40 minutes from a full charge, which is more than the average cordless in this price bracket and long enough to clean a medium size home. It's surprising that Gtech hasn't improved the battery life in the four years between the original and Mk2 though.
A docking station isn't included with the Gtech AirRam Mk2, as the upright design means it can stand on its own. Instead, a simple charger pack is used to recharge the battery.
Gtech AirRam Mk2 Floor Head
As the Gtech AirRam Mk2 is designed for floor cleaning, the floor head is one of the most important components. It's built with a powered rotating brush bar that's designed to pull more dust and dirt out of carpets. As we mentioned earlier, the Gtech largely relies on this brush bar for its cleaning performance, as the suction power is relatively low.
The floor head also uses Gtech's AirLOC technology. While this sounds fancy, it's effectively a flap that creates a seal when the vacuum is moved backwards. In theory, this allows it to pick up larger debris, such as cereal, without sacrificing its suction power for smaller particles. While we think this system does help, in reality the vacuum often pushes around larger debris.
Additionally, the floor head is designed to clean right to the edge of walls and skirting boards. This is vital, as the lack of a hose means there's no option to whip down walls after cleaning.
A downside of this vac is that the brush can quickly become tangled with pet hair. It's also not the easiest to untangle. This, combined with the poor pet hair pickup and lack of above-floor cleaning, means we don't recommend the Gtech AirRam Mk2 if you have a dog or cat that sheds.
Gtech AirRam Mk2 Filtration
The combination of washable filter and unique design means very little dust and dirt escapes into the air. Gtech claims the filter should last the lifetime of the machine, but it's important to clean it on a regular basis to maintain suction power.
As with all cordless vacuums, however, the Gtech AirRam Mk2 is a bagless model. We don't usually recommend bagless vacuums for people with allergies, as the emptying process can allow allergens to escape into the air. There aren't many bagged cordless models on the market though, so if you suffer from dust allergies you may want to get another family member to empty it directly into an outdoor bin.
Gtech AirRam Mk2 Price and Value
At the time of writing, the Gtech AirRam Mk2 vacuum cleaner has an RRP of £200 – although you may be able to find it for cheaper on various shopping sites.
We think this price provides great value if you're looking for a convenient second vacuum to use between cleaning with your main vacuum cleaner. As a full replacement for a corded vacuum, however, the Gtech AirRam Mk2 falls short. The lack of above-floor cleaning also means it's not as versatile as the best cordless vacuums – although it's also considerably cheaper.
Still, it's one of the best cordless vacuum cleaners on a budget for floor cleaning. In addition, Gtech offer a 2 year guarantee that covers faulty manufacturing.
Gtech AirRam Mk2 Tools and Accessories
Like the original AirRam, the Gtech AirRam Mk2 doesn't come with any attachments or tools. A multi-tool can be bought as a separate handheld device, but this adds considerable cost to the machine.
This is quite a major drawback. Compared with the versatility of models from Dyson and Shark, the AirRam's lack of tools means it's a much more limited vacuum cleaner.
Frequently Asked Questions
What Are The Differences Between The Gtech AirRam And AirRam Mk2?
On the surface, it doesn't seem there are huge differences between the Mk1 and Mk2. The aim of providing a floor-cleaning cordless as a second vacuum rather than a true upright replacement is certainly the same. They also both weigh 3.5kg and have a combination of telescopic tube and additional handle.
There are a number of additions though. Firstly, the AirLOC suction system improves the vacuum's ability to pickup larger debris without compromising on smaller particles. Gtech has also added headlights and a new, easier-to-empty bin design. Overall, the Gtech AirRam Mk2 is unarguably a step up from the original vacuum cleaner, even if the basic design is the same.
What's The Difference Between The Gtech AirRam Mk2 And Gtech AirRam Mk2 K9?
There are surprisingly few differences between the AirRam Mk2 and AirRam Mk2 K9 versions.
This is partly because there's no way to attach tools to the AirRam. Therefore, Gtech can't include a turbo tool with the K9 version, which is the usual extra included with a pet vacuum.
Instead, Gtech has reinforced the Mk2 K9 with aluminium to make it more durable and suitable for tough cleaning jobs. The K9 version also comes with a scented filter cartridge to reduce pet odours.
Can The Gtech AirRam Mk2 Clean A Car Interior?
We don't recommend the AirRam Mk2 for car cleaning. There's no detachable handheld mode or hose, so it's not suitable for cleaning above-floor locations or inside a car.
Gtech AirRam Mk2 Specification
| Ninja Column 1 | Ninja Column 2 |
| --- | --- |
| Type | Cordless |
| Bag | Bagless |
| Filter | Washable |
| Price Range | ££ |
| Battery (V) | 22 |
| Maximum Run-Time | 40 |
| Charge Time (h) | 4 |
| Weight (kg) | 3.2 |
| Capacity (Litres) | 0.8 |
| Hose | No |
Gtech AirRam Mk2 Review Verdict
While the Gtech AirRam Mk2 cordless vacuum cleaner is an improvement on the original AirRam, the changes are evolutionary rather than revolutionary. The easier-to-empty bin, new suction system and headlights are welcome additions, and we think the Mk2 provides excellent value for money.
The competition for cordless vacuums is much stiffer than when the original AirRam was released though. Models such as the Dyson V8 provide better cleaning power and are more versatile (check out our V8 vs AirRam comparison for more information) – although the AirRam is cheaper and has a longer battery life. Many people will also be put off by the lack of accessories, no handheld mode, and mediocre performance when cleaning pet hair.
That doesn't mean the Gtech AirRam Mk2 doesn't have its place though. It isn't a full vacuum replacement, nor is it as versatile as the best stick cordless vacuums, but it's considerably cheaper than Dyson alternatives and does a great job on floors.
So, if you're looking for a cordless vacuum to clean carpets and hard floors that doesn't cost as much as stick models from Dyson or Tineco, it's certainly an option to consider. We just don't think it has the specification or design to rival the very best cordless vacuum cleaners.