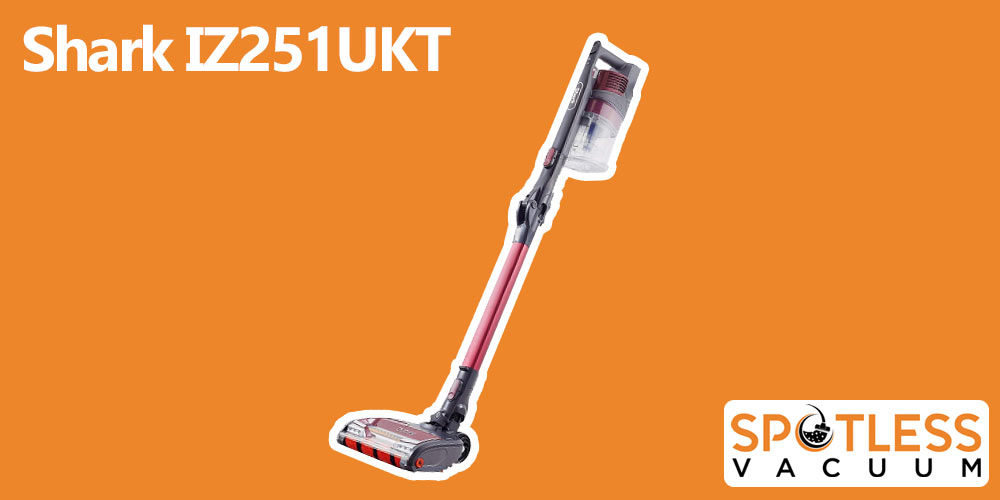 Our Verdict: The Shark IZ251UKT is an impressive cordless stick vacuum. It provides strong suction, comes with loads of interesting features, and we love the dual battery system for increasing battery life. It's also excellent for cleaning hard floors. However, we don't think it can quite match the best cordless vacuums for carpet cleaning.
Pros:
Strong suction power for a stick vacuum
Dual batteries with up to 80-minutes run-time
Multiple tools including a mini motorised tool
Great for hard floors and pet hair
Flexology and Anti Hair Wrap technology
Cons:
Dust and dirt can get caught when emptying
Doesn't stand upright without being folded down
Heavier than most cordless vacuums
Thinking of buying the Shark IZ251UKT? This popular cordless vacuum comes with a host of interesting features, including dual batteries. Read our review to find out whether it's worth buying.
The Shark IZ251UKT is a premium cordless vacuum cleaner that's designed to rival the Dyson V10 and Tineco S12. It's packed with Shark's innovative features, such as their new "anti hair-wrap" floorheads, Flexology design, and DuoClean brush bars, and even has two batteries for a longer run-time.
We really like the IZ251UKT, as it combines many of the best features of Shark uprights with the convenience of a cordless vacuum. It also does an excellent job of cleaning hard floors and has a longer run-time than most competing models.
How does the Shark compare to other premium cordless vacuums though? And should you buy it? Read our Shark IZ251UKT review to find out.
Overview of the Shark IZ251UKT's Features
Two batteries that can be swapped for up to 80 minutes run-time
DuoClean floorhead is great for both carpets and hard floors
LED headlights to illuminate dust and dirt
Flexology design for easier storage and cleaning under furniture
Comes with Shark anti hair wrap technology to prevent hairs winding around brush bars
Motorised pet tool and several other accessories
5-year guarantee (2 years for the battery)
Shark IZ251UKT Appearance, Features & Design
There's no doubt that the Shark IZ251UKT is an attractive vacuum. We like the burgundy colour scheme, which looks great combined with the dark grey joints. It also feels well-built and durable, which is important for a premium vacuum.
The IZ251UKT's body feels bulkier than many cordless vacuums. It's also a bit heavier (at around 4.1kg), which can make long cleaning sessions more tiring compared with ultra-lightweight models. The upside is that the vacuum has a 0.7 litre dust capacity, which is bigger than many cordless vacuums, and the motor provides powerful suction.
Like many cordless vacuum cleaners, the Shark IZ251UKT can be used as both a stick vac and as a handheld. All the tools – including the primary floorhead – can be directly attached to either the main body or wand, so you don't lose any cleaning power when in handheld mode. We found this makes the Shark a versatile vacuum cleaner that's just as effective cleaning stairs and cars as it is for carpets and hard floors.
Shark IZ251UKT Manoeuvrability and Ease of Use
Like most Shark vacuums, the IZ251UKT feels easy to manoeuvre and balanced. It's not the lightest cordless we've reviewed, but it's not a struggle to steer around furniture due to the swivel steering system. It's also easy to hold up when cleaning above the floor, although you may find this tiring after a while.
All the buttons are conveniently placed, making it easy to switch modes or activate the boost function. We also like the comfortable handle.
Unlike Dyson cordless vacuums, we like that the Shark IZ251UKT has a simple on/off toggle rather than a trigger system. If you hate the idea of needing to hold down a trigger to keep the vacuum running, then Shark's system will be a welcome relief.
Unfortunately, the Shark IZ251UKT isn't a freestanding model, as it topples backwards when left standing. This is where the Flexology wand is useful though, as the vacuum does stand up when folded.
Other Design Features
The IZ251UKT has Shark's Flexology design. This is effectively a joint in the vacuum's wand, which you can use to clean under furniture.
There's also the option of folding the vacuum for storage, which is useful if you want to keep the Shark in a small cupboard. When folded, the vacuum is approximately 70cm tall.
While the Flexology system isn't something you'll always use, we think it's a handy feature when cleaning under low objects. Activating it just requires a single click, then you can snap it back into place when finished, so it's easy to use and perfect for low sofas, sideboards, or tables.
On a related note, we like how easily everything on the Shark fits together with a satisfying click. Whether you're activating Flexology, switching to handheld vacuum mode, or changing tools, the vacuum feels engineered to a high-standard and satisfying to use.
Shark IZ251UKT Filtration
The IZ251UKT is effective at retaining small allergens and other particles. There's both a foam pre-motor filter and HEPA post-motor filter included with the Shark, which combine to do a great job at filtering air before it is released back into your home
This makes it a solid choice for people who suffer from allergies, although you'll need to ask someone else to empty it into an outdoor bin to prevent dust escaping.
Shark IZ251UKT Emptying & Cleaning
One drawback to the Shark IZ251UKT is that only has a trapdoor emptying system.
This is easy to use – just hold the vacuum over a bin and press the latch – but it's common for dirt and hair to get caught and need to be pulled out by hand. That's why some high-end cordless vacuums (including the Dyson V10 Cyclone) now have a collar system for physically pushing out more dirt.
Both filters need to be cleaned to keep the vacuum running smoothly, although the pre-motor filter needs to be cleaned more often (approximately every 4 weeks.) Fortunately, these are easy to access. Just make sure they are completely dry after you wash them!
Shark IZ251UKT Battery Life
One of the stand-out features of the IZ251UKT is that it comes with dual batteries. By swapping the battery when it runs out, the Shark can offer up to 80 minutes run-time, which is one of the longest we've seen from a cordless vacuum. If you need a cordless vacuum that can clean an entire home on a single charge, then it's a great choice.
It's worth mentioning that this is the maximum run-time without using a motorised tool. When the DuoClean or mini pet tool are attached, the run-time will be less.
One of the great things about the IZ251UKT is that it comes with a dual battery cradle. This allows you to charge both batteries at the same time, which takes around 3.5 hours. You can also charge one battery while it's attached to the vacuum, and there are three indicator lights to show you the current level of charge.
The Shark doesn't come with an LCD screen to show remaining battery time, such as the Dyson V11 Absolute. This isn't an essential feature, but it's great to be able to see the remaining charge on the Dyson V11, especially as it updates depending on which mode or tool you're using. Relying on three LED lights on the Shark means you're always wondering how much battery you've really got left.
On the plus side, you can leave the batteries in the docking station even once they are fully charged, so it's easy to ensure you always have battery power when you need it.
Shark IZ251UKT Tools & Accessories
The IZ251UKT comes with an impressive array of tools and attachments. All of the tools are easy to click into place on both the wand and main vacuum body, so you can use them in handheld mode if needed. They are also simple to remove with Shark's click system, which isn't always the case with cordless vacuums.
Floorhead
The primary floorhead is built with Shark's DuoClean technology with two motorised brush rolls. This has a regular brush bar for carpets, along with a softer roller for picking up both large debris and fine dust from hard floors. The soft brush is also in continuous contact with the floor, which helps to reduce scattering.
A bonus is that the IZ251UKT's floorhead has Shark's anti hair-wrap technology. This consists of several combs that prevent hair from becoming caught round the brush bar, so you don't need to cut hair away from the roller. We don't think it's 100% effective, but it does a good job at forcing hair into the bin, especially if your vacuum has to deal with long hair.
As with most Shark vacuum cleaners, the IZ251UKT has LED headlights. These help illuminate dust, dirt, and hair, particularly when cleaning under furniture. There's also the option of switching to "hard floor" mode, which slows down the brush bar to prevent scattering.
Other Tools and Accessories
The IZ251UKT is the TruePet version of this vacuum cleaner range, meaning that it comes with a motorised pet tool. Aside from being excellent for cleaning hair on stairs, upholstery, and car seats, the pet tool has the same anti hair-wrap technology as the DuoClean floorhead.
Other accessories include a dusting brush and upholstery tool. It also comes with a large 30cm crevice tool. Many modern vacuums only include smaller crevice tools, so it's great that the IZ251UKT has a tool that's long enough to get into tight spaces.
A downside is that the Shark doesn't come with a docking station. This is less of an issue with two batteries, as it's straightforward to always keep one battery in the charging station, and you can always fold down the vacuum so that it stands without needing support. Still, we think a docking station would have been a useful extra.
Shark IZ251UKT Suction Power & Cleaning Performance
We think the Shark IZ251UKT provides excellent suction power, even when in "regular" mode. It's a great all-rounder that's often capable of replacing a regular vacuum, rather than only being suitable for quick clean-ups.
There are several cleaning modes. As mentioned earlier, there are settings for both carpets and hard floors, which affects how quickly the brush bar turns. There's also a trigger for "Boost" mode, which increases suction at the expense of battery run-time. This function is great when you come across stubborn dirt or hair, and the trigger is easy to access when needed.
Let's take a closer look at how the IZ251UKT performs with common cleaning tasks.
Carpets
The Shark provides decent carpet cleaning power. It does a good job at agitating both long and short pile carpet fibres, while the strong suction helps remove plenty of dirt. It also doesn't get "stuck" and become difficult to push on most carpets, which is a common problem for powerful vacuums.
With that said, we don't think it can match the Dyson V11 Absolute when it comes to cleaning carpets. It's better than most cordless vacuums, but fails to meet the high standards set by the very best models. It's worth noting that the Shark is considerably cheaper than the Dyson V11 series though.
The Shark also doesn't provide the best edge cleaning performance we've seen, so you might have to follow up with the crevice tool to clean along skirting boards.
Hard Floors
While the Shark is above-average for carpet cleaning, it's brilliant for hard floors. It's great at picking up dirt on everything from laminate to tiles, making it one of the best cordless options if your home has lots of hard floors.
This performance is largely due to the DuoClean floorhead, as the soft brush bar provides similar benefits to Dyson's "Soft Roller" without needing to switch heads manually. The vacuum also generates plenty of suction for pulling dirt from between floorboards.
Stairs
Using the motorised pet tool while in handheld mode makes cleaning stairs much more convenient than a corded vacuum. We also like how easy the wand makes it to clean higher locations, such as ceilings and light fittings.
A minor drawback is that the relatively large bin can sometimes get caught on a step when using the motorised tool.
Pet Hair
The DuoClean floorhead is excellent for picking up pet hair from both carpets and hard floors. We also think that the motorised pet tool is great for removing embedded pet hair from sofas and car interiors.
If you're looking for a powerful cordless that can handle pet hair, then the Shark IZ251UKT is definitely an option to consider.
Shark IZ251UKT Price & Value for Money
The Shark IZ251UKT is an expensive cordless vacuum cleaner. Its RRP is £479.99 (at the time of this review), putting it into direct competition with the Dyson V10 Cyclone and Tineco Pure One S12. It's cheaper than the Dyson V11, which is one of our top rated cordless vacuums, but could still be seen as competing for the same market.
This is strong competition, but we think the Shark is a match for both the Dyson V10 Cyclone and Tineco S12. The right option depends on your requirements, with the Shark being a particularly strong pick for homes with lots of hard floors. It's also the only option with the Flexology design. On the other hand, the Dyson V10 is probably a better choice for carpet cleaning, although the Shark is no slouch.
This vacuum also comes with a 5-year guarantee if you register with Shark. Batteries aren't included in this, although Shark guarantees them for up to two years.
Shark IZ251UKT Specification Table
| Ninja Column 1 | Ninja Column 2 |
| --- | --- |
| Price Range | ££££ |
| Battery | 21.6V |
| Maximum Run-Time | 80 minutes |
| Weight | 4.1 kg |
| Capacity | 0.7 litres |
| Type | Bagless |
| Motorised Tool | Yes |
| Hose | No |
| Filter | Washable + HEPA |
Comparison With Other Vacuums
Before we compare the IZ251UKT to specific models, it's worth mentioning that there are four versions of this vacuum. The IZ251UKT (the one in this review) is the top-end model, as it comes with both the pet tool and two batteries. Other models only have one battery and no pet tool (IZ201UK), one battery and the motorised pet tool (IZ201UKT), or two batteries and no pet tool (IZ251UK.)
The right option depends on your budget, whether you have pets, and if you need the longer run-time. Even if you don't have pets, however, we still think it's worth paying extra to get a Shark vacuum with the motorised pet tool, as it's brilliant when the vac is in handheld mode.
Dyson V11 Absolute Vs Shark IZ251UKT
The Dyson V11 Absolute is one of our top rated cordless vacuum cleaners. It's an outstanding vacuum that provides strong all-round performance, although this comes at the cost of an eye-watering price tag.
In comparison, the Shark doesn't feel as advanced as the V11, mainly due to the lack of an LCD screen. It's around £100 cheaper (at the time of writing,) however, and still provides great performance and several features that aren't included with the Dyson.
Shark IZ251UK Vs Shark IZ251UKT
The Shark IZ251UK is very similar to the IZ251UKT, but doesn't include the TruePet motorised tool. All of the other features are the same, including the dual battery design and anti hair-wrap technology.
If you don't need the mini motorised tool, then the IZ251UK could save you a bit of money.
Shark IZ201UKT Vs Shark IZ251UKT
Again, the IZ201UKT is a similar vacuum, but with different included accessories. While the mini motorised tool is included in this model, you don't get a second battery. This halves the effective run-time, although the IZ201UKT is a cheaper option.
Shark IZ251UKT Verdict
We're impressed by the features and performance of the Shark IZ251UKT cordless vacuum. The stick design with a handheld mode is familiar, but features like anti hair wrap, Flexology stick, DuoClean floorhead, and dual battery design set the vacuum apart from its competitors.
The IZ251UKT is also brilliant for cleaning hard floors, pet hair, and staircases. It provides strong suction when in its regular mode, while the boost option is useful when you need some extra power.
It's not perfect though. The IZ251UKT falls over unless you fold the stick, which can be frustrating when you quickly need to move something when cleaning. We also don't think it's as effective on carpets as some of its competitors.
Even so, the Shark IZ251UKT is an excellent cordless vacuum and a worthy competitor to both Dyson and Tineco models.