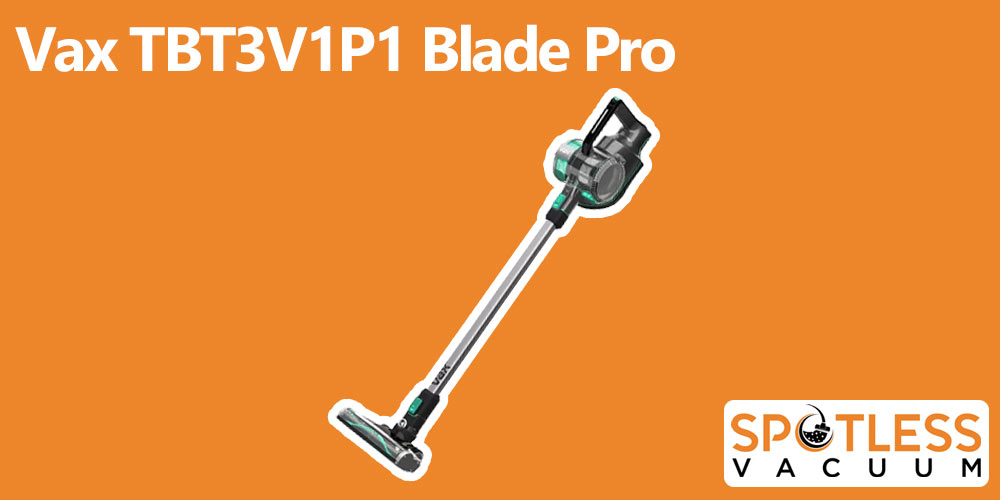 Our Verdict: The Vax TBT3V1P1 can't compete with the best cordless vacuums. However, if you need a low-budget cordless that does a decent job for quick cleaning jobs, it still provides good value. We like that it's lightweight, has a steerable design, and that it provides decent carpet cleaning performance. It's important to have realistic expectations though – this Vax is certainly not capable of replacing your corded vacuum.
Pros:
Decent all-round performance and a boost mode
Handheld mode for above-floor cleaning
Powered brush bar helps agitate carpet fibres
Steerable design that's easy to manoeuvre
Great value for money
Cons:
No motorised pet tool limits its above-floor performance
Poor filtration makes it unsuitable for allergy sufferers
Only a one year battery guarantee
Can't match pricier options for suction power and cleaning performance
No charging wall mount
The Vax Blade Pro 32V TBT3V1P1 is a popular cordless vacuum that's been around for a while, but how does it compare to newer models? Keep reading our Vax Blade 32V review to find out.
The Vax Blade Pro is a cordless vacuum that's designed for everyday cleaning. It has a stick design, handheld mode, and a powered brush bar for more effective cleaning. It's also considerably cheaper than popular models from other brands, such as the Dyson Cyclone V10.
We think the Vax provides good value for money. It's not as powerful or effective as more expensive cordless vacuums, but for spot cleaning it's a decent model for both carpets and hard floors. We do think it's let down by the poor filtration and lack of a pet tool though.
While there are now a range of new Blade models on the market, such as the Vax Blade 2, the TBT3V1P1 is still a popular cordless vacuum cleaner. Let's take a closer look at this cordless vacuum cleaner's features, performance, and whether it's worth the money.
Appearance, Features and Design
The TBT3V1P1 is a cordless stick vacuum. This familiar design has become the default choice in recent years, as it provides plenty of mobility with enough space in the main body for a motor and dust canister.
Like most other cordless stick vacs, the Blade also has a handheld mode that can be activated by detaching the main tube. The floorhead can be attached directly to the body, creating a powerful handheld. The stick can also be used to clean higher locations, such as cobwebs on the ceiling.
At just 3kg, the Vax TBT3V1P1 certainly meets our requirements for a lightweight vacuum cleaner. If you have trouble lugging around a heavy upright, we think it's a handy alternative for quick cleaning jobs. For comparison, it's marginally heavier than the Dyson V8, but the difference is negligible (approximately 400g).
The Vax also has a relatively large 0.6 litre dust capacity. This is small compared to corded uprights or cylinders, but makes it one of the larger cordless vacuum cleaners on the market. Still, you'll need to empty it regularly during a full house clean.
Ease of Use
Cleaning with the Vax Blade 32V Pro never feels like a chore. The combination of lightweight design, steerable joint and balanced feel (due to the horizontal cylinder) makes it easy to clean almost anywhere in the home.
It also has a comfortable handle, which we think is important during longer cleaning sessions.
The battery charge indicator on the control dial is a useful feature. In contrast to many other cordless vacuums, which only tell you when the battery is running low, the TBT3V1P1 has a semi-circle of LEDs, so you can quickly see how much charge is remaining. Of course, there's not a minute-by-minute countdown like you get on the Dyson V11, as this is an advanced feature.
Unlike the Dyson V7 and V8, the TBT3V1P1 vacuum cleaner has a button for switching off the powered brush bar. Rotating brush bars can sometimes scatter larger debris on hard floors, and may even cause delicate floors to lose their shine, so having the option to switch it off is a useful feature.
Battery Life
You can expect the Vax Blade 32V to last anywhere from 20-45 minutes depending on the mode and whether the motorised brush bar is activated. It's not the longest battery life we've seen, but the run-time of up to 45 minutes should be long enough for cleaning most homes.
As you would expect from a modern cordless vacuum cleaner, the Vax Blade 32V has a "Boost" mode when you need to tackle stubborn dirt or hair. Activating "Boost" significantly reduces battery life to around 20 minutes, however, so it's a feature to use sparingly.
Charging the flat battery to full takes approximately four hours, which is relatively quick compared to other cordless vacs.
A drawback is that you can't replace the battery on the Vax TBT3V1P1 Pro. While Vax vacuum cleaners are usually reliable, and the battery is covered by a one year guarantee, once the battery dies the vacuum goes with it. We don't think this is a major issue, as lithium-ion batteries tend to last many years, but it's something to keep in mind.
Filtration
We think one area that lets the Vax Blade 32V down is its filtration system. It's not terrible in this regard, but the washable foam filter isn't as effective at trapping allergens as other vacuum cleaners on the market.
If you suffer from dust or pet allergies, we think there are much better cordless vacuums on the market for retaining allergens.
Emptying, Cleaning & Maintenance
The TBT3V1P1 has a simple trap-door emptying system. You just need to hold it over a bin and use the release button to empty the dust, dirt and other debris.
There's no collar to push out dust and dirt though. This means debris can sometimes get caught in the canister and needs to be pulled out.
Keep in mind that the bagless design means the Vax probably isn't a good vacuum cleaner for people with allergies. Dust and other allergens can escape when you open the canister, so it's best to empty it outdoors.
The washable filter is easy to remove when it needs to be cleaned. Just make sure it's completely dry before you use the vacuum again.
Tools and Accessories
The Vax Blade 32V Pro vacuum cleaner comes with a relatively simple set of tools, but these increase the vacuum's versatility around the home.
All of the tools are easy to fit and remove as needed.
Floorhead(s)
Unlike pricier cordless vacs, such as the Dyson V8 Absolute, the Blade 32V only has a single floorhead. This is designed to be used on all floor types, so you don't need to swap when moving between carpets and hard floors.
While there's nothing outstanding about the floorhead, it does a decent job at cleaning and is easy to manoeuvre around the home. It can also be used in both stick and handheld modes.
Importantly, the floorhead has a motorised brush bar, which helps stir up dirt and dust from carpet fibres (more on that in the cleaning performance section.) Most modern cordless vacs have this feature, but it makes a big difference to performance on carpets.
The floorhead also has a flexible hose joint for easier steering, which Vax calls a "Steerable" design. We think this really does make it easier to manoeuvre around furniture or other items – plus the vacuum can clean at nearly horizontal for getting under tables.
Tools
There are three tools included with the Blade 32V Pro vacuum cleaner. These are:
Dusting brush
Crevice tool
Pet/stair tool with rubber teeth
Unfortunately, the pet tool is not motorised. This is a shame, considering the Pro is marketed as a pet vacuum cleaner, although the rubber teeth can still be effective at removing hair from upholstery and stairs.
Vax has included a simple wall mount that can be screwed into your wall. While this is useful for storage, the TBT3V1P1 doesn't include a wall mount station for recharging.
There's also no tool storage on the wall mount or vacuum, so you'll need to store these separately.
Note: Vax also sells an accessory kit for the Blade 32V. This must be bought separately, but includes a tool for cleaning behind radiators, mattress tool, a flexible up-top tool, and various other brush types. As these cost extra, we haven't included them in this Vax Blade 32V review.
Suction Power and Cleaning Performance
We think the Vax Blade 32V Pro provides surprisingly strong suction for an inexpensive cordless, even on the standard suction setting. This is partly due to the "Direct Helix Technology", which is designed to optimise airflow.
It also does a good job of cleaning most floor types. Whether you're vacuuming carpets, rugs, tiles or hardwood, the Blade rarely seems to struggle with surface dirt or debris.
Is it a replacement for a full-size upright? No, so it's important to have realistic expectations. It struggles to remove deeper dirt and won't fluff up your carpet like a more powerful vacuum. But the TBT3V1P1 is a convenient option for quick cleans and comes surprisingly close to the cleaning performance of more expensive cordless vacuums.
Of course, the Vax 32V isn't the most powerful cordless vacuum on the market – but it's also a lot cheaper than models from Dyson and Tineco.
Carpets
The Vax Blade 32V TBT3V1P1 is great for cleaning both low-pile carpets. It has plenty of suction – especially when in boost mode – and the powered brush bar lifts more hair and dirt from carpet fibres.
However, it's not quite so effective on deep pile carpets. It's capable of picking up surface-level dirt, but dust or pet dander that's deeper in the carpet fibres may not be removed on its first pass.
Even so, we think it's one of the best cordless stick vacuums for carpets – at least when it comes to value for money.
Hard Floors
We're also impressed by the Blade's hard floor cleaning performance. It does a good job of picking up dust and small debris from laminate, floorboards and tiles.
Having the option to turn off the brush bar is great when cleaning these floors as it stops debris being scattered.
The vacuum is also effective at removing large debris from hard floors. This is something we've found that many cordless vacuums struggle with. It even has the suction power to remove dust and dirt between floorboards.
Stairs
Like most cordless stick vacuums with a handheld mode, the Vax Blade 32V Pro is easy to use on stairs.
It's a shame that Vax hasn't included a motorised pet tool with the TBT3V1P1 though. While you can use the regular floorhead in handheld mode, it's a bit too wide to comfortably clean stairs.
Pet Hair
Despite the lack of a motorised pet tool, the regular floorhead is effective at picking up both long and short pet hair.
This is fine for carpets and rugs, but motorised turbo tools are much more convenient for cleaning hairs from stairs, upholstery and car interiors.
So, it's certainly not the best cordless for pet hair, but it's not terrible either.
Price and Value for Money
With a relatively low price tag compared to newer cordless vacuums, the Vax Blade Pro 32V provides solid value for money. It can't match the performance of pricier models, but it's a great choice if you don't want to shell out £300+ for a vacuum.
The Vax comes with a 2-year guarantee from the manufacturer, but the battery is only covered for one year. This is a shame, as it's often the battery on cordless vacuums that develops issues before anything else.
Specification Table
| Ninja Column 1 | Ninja Column 2 |
| --- | --- |
| Battery | 32V |
| Battery Type | Lithium-Ion |
| Bagless/Bagged | Bagless |
| Max Run-Time | 45 minutes |
| Charge Time | 4 hours |
| Weight | 3kg |
| Capacity | 0.6 litres |
| Filter | Washable |
| HEPA Filter | No |
| Motorised Pet Tool | No |
| Handheld Mode | Yes |
Comparison With Other Vacuums
Vax TBT3V1P1 Vs TBT3V1P2 – What's the Difference?
The Vax Blade 32V Pro TBT3V1P1 and Vax Blade 32V Ultra TBT3V1P2 are very similar vacuums.
In fact, it's hard to tell the difference between them. Both have a 45 minute maximum battery life, 0.6L capacity, 32V lithium-ion battery and the same tools.
The only real differences are the price – the TBT3V1P1 is cheaper – and external design.
Frequently Asked Questions
Does the Vax TBT3V1P1 Have a Pet Tool?
This vacuum doesn't have a motorised pet tool. It does come with a non-motorised pet tool, but this lacks a powered brush bar which makes it less effective.
Where Can I Find the Best Price for This Vacuum?
Prices for all vacuum cleaners change frequently, so you may need to hunt around for the best price. In general, Argos, Amazon and Currys are good places to start searching online.
Summary
If you're looking for a budget cordless vacuum that's convenient, versatile, and relatively powerful, the Vax Blade 32V TBT3V1P1 is an option to consider.
It provides decent performance and battery life for the price – even though it can't match more expensive cordless models or full-size uprights. The stick/handheld design also makes it suitable for almost any cleaning job.
There are a few drawbacks though. The lack of a motorised pet tool is a big one, especially if you need to clean hair from stairs, car interiors or upholstery. The TBT3V1P1 also has poor filtration, making it unsuitable for people with allergies.
Even so, if you want the convenience of a cordless without the high price tag, the Vax Blade 32V Pro TBT3V1P1 is a solid choice.
We hope this Vax Blade 32V review has helped you decide whether the TBT3V1P1 is right for you. If you have any questions or comments, please use the comments form below.