If you have hardwood floors in your home, it's vital to choose a vacuum that cleans them effectively. This increases the floor's lifespan and keeps it looking new. In this article, we've listed the 5 best vacuums for hardwood floors.
Hardwood floors have grown in popularity in recent years, as the style has rapidly come back into fashion. This has led to vacuum cleaner manufacturers designing models to meet the challenges of cleaning hardwood flooring.
What are the differences between vacuuming carpets and hardwood floors though?
The biggest is that hardwood provides much less friction. This can lead to vacuums pushing dirt and dust around, instead of sucking it up.
Gaps between floorboards also present a challenge to many vacuums. As the powered brush bar can't be used to agitate dirt on hard floors, the vacuum needs to rely on suction alone.​ Many vacuum cleaners fail to provide enough suction power to handle this.
Some vacuums are also at risk of scratching less durable hardwood floors. This shouldn't happen if the brush bar can be switch off, but is a concern for cheaper vacs or those without proper protection.​
For these reasons, we've put together a list of the best hardwood floor vacuum cleaners. Each of these models are excellent all-round vacuums and can clean almost any floor – but are particularly effective for cleaning wooden floorboards.
What Makes a Great Vacuum for Hard Floors?
Before we get to our recommendations, it's important to know what to look for in a hardwood vacuum cleaner. While many considerations are the same – such as weight, price and reliability – there are additional factors you need to be aware of.
Suction Power. All the best vacuum cleaners have strong suction power – but this is especially important if your hardwood floorboards have gaps between them. Stronger suction also makes a vacuum more effective at picking up larger debris, such as cereal. For hardwood flooring without gaps, however, you won't need such strong suction power.
Rolling Brushes. Powered brush bars are designed to dig deep into carpets to remove more dust and dirt. This isn't necessary for hardwood flooring – and can potentially scratch the surface. A powered brush roll may also scatter debris rather than suck it up. For this reason, look for a model either without a powered brush bar or one that can be switched off.
Wheel Padding. Another way the best hardwood vacuum cleaners prevent scratching is with padding around the wheels. This is more common on cylinder vacuums than uprights.
Attachments. Unless your home only has hardwood floors, the vacuum will need to clean a variety of flooring types. Hard floor attachments are a great way of making sure the vacuum performs on hardwood without sacrificing the power of a regular floor tool. Some vacuums also come with combi floor heads with settings for various floors.
Cordless or Corded. The choice between cordless or corded mainly depends on the size of your home and personal preference. If you need a vacuum for long cleaning sessions, a corded model is probably the best choice. For convenience and lightweight design, however, it's difficult to beat a cordless.
Aside from these considerations, you also need to think about your requirements.
For example, do you have pets? If so, a pet hair attachment for getting hair out of upholstery and stairs might be useful. What other floors do you have in your home? Will the vacuum clean effectively on all these surfaces? And does anyone in your household suffer from allergies? By answering these questions, you'll be more likely to get a machine that does everything you need.
What About Laminate?
Keep in mind that the best vacuum cleaner for hardwood floors is not necessarily a great machine for cleaning laminate. While there's often an overlap, the two types of flooring present slightly different challenges.
If you have a laminate floor – or combination of laminate and hardwood in your house – we recommend either the Miele Complete C3 Pure Red PowerLine (which excels on almost any floor) or Dyson V11 Absolute if you want a cordless. Both these models are great on both laminate and wooden floors. We also have a full guide to the best vacuums for laminate flooring.
5 Best Vacuum Cleaners for Hardwood Flooring
Now you know what to look for in a hardwood vacuum, here are five of the best options. Each of these vacuum cleaners provides outstanding cleaning performance on hardwood – but they aren't one trick ponies either. So if you have a mixture of floor types in your home, these models provide excellent all-round cleaning performance.
| Rank | Image | Product Name | Type | Price Range | Read More |
| --- | --- | --- | --- | --- | --- |
| #1 | | Miele C3 Cat & Dog | Cylinder | £££ | View Price |
| #2 | | Dyson V11 Absolute | Cordless | £££££ | View Price |
| #3 | | Vax Gator H85-GA-B10 | Handheld | £ | View Price |
| #4 | | Shark Powered Lift Away NV681UK | Upright | £££ | View Price |
| #5 | | Dyson Big Ball Multi Floor 2 | Cylinder | £££ | View Price |
1. Miele C3 Cat & Dog (#1 Pick for a Hardwood Vacuum)
The Miele C3 Cat & Dog is a popular bagged cylinder vacuum – and it's one of the best models for hardwood cleaning. It provides excellent dust pickup and is great for pet hair. It's also available for a very reasonable price.
This vacuum received one of our highest ever ratings for its all-round cleaning performance, but it excels on hard floors. With its 4.5 litre capacity, Active AirClean filter and turbo brush for deep cleaning cat and dog hair, there are very few tasks the C3 isn't suitable for.
When it comes to cleaning hardfloors, Miele's EcoTeq floorhead does a great job. It doesn't come with a powered brush bar so you don't need to worry about scratching. This floorhead is also useful for carpets – although for stubborn hair you'll want to switch to the turbo tool which has a powered brush bar.
Like most Miele vacuums, the C3 also provides excellent cleaning performance on almost any surface. So whether you have a mixture of floors or just hardwood, it makes quick work of jobs that other vacuums struggle with.
The only downside to the Miele C3 Cat & Dog is that it's not the best model for getting up larger debris such as cereal. It can still do a decent job, but you might need to adjust the floorhead settings to get effective pickup.
Overall, the Miele C3 Cat & Dog is one of the best vacuum cleaners we've ever reviewed – and its hardfloor pickup is outstanding. If you want a cylinder vacuum that's versatile enough for any flooring, yet excels on wooden floors, this is the one to get. Click here to view its price.
Key Features:
A rating for hardfloor pickup
Great for sucking up dust between floorboards
Effective for removing pet hair
Specification:
Power: 900W
Capacity: 4.5L
2. Dyson V11 Absolute (Best Cordless Vacuum for Wooden Floors)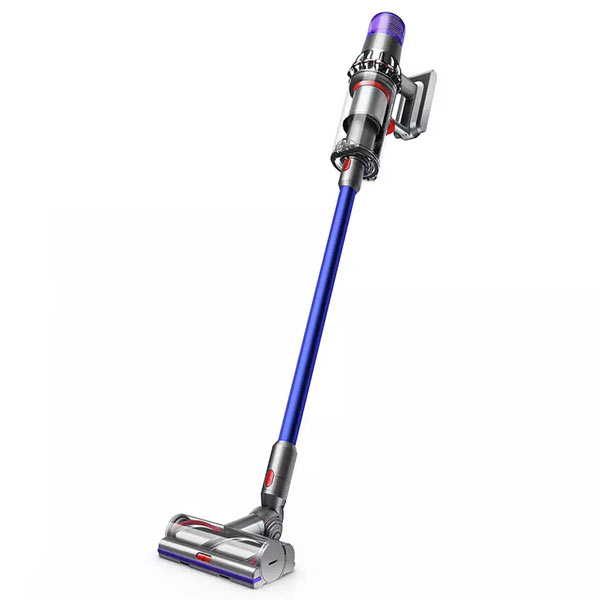 The Dyson V11 Absolute is our top pick for a cordless hardfloor vac. It's one of the most powerful cordless vacs on the market, and it does a brilliant job on all types of hard floors. It also has advanced features, like an LCD screen and adaptive suction power.
With a an upgraded floorhead and a more powerful motor than the V8 and V10, the V11 Absolute improves on what was already an outstanding vacuum. It's very expensive – but there's little doubt it's the one of the best cordless vacuums on the market at the moment. Most importantly for this article, the Absolute version of the V11 comes with Dyson's "fluffy" Soft Roller floorhead that's great for cleaning hardwood floors (for more information about the various models, please read our V11 comparison.)
Like all Dyson cordless vacuums, the V11 features a long, rigid tube that can be detached to turn it into a powerful handheld. It has a 60 minute run-time (although this varies depending on the power setting and tool used) and uses Dyson's whole machine filtration to prevent dust particles escaping.
One of the best features of the V1 Absolute is the High Torque floorhead. This is a motorised tool that's great for carpets, tiles or laminate. It has a more powerful brush bar than previous Dyson cordless vacuums, so it digs deeper into carpets for a more thorough clean. When in "Auto" mode, the new floorhead is also able to adjust suction automatically depending on the type of surface.
For best hardfloor performance, we recommend using the Soft Roller cleaner head. This is one of the most innovative floorheads on the market, as the large roller can pickup small dust particles, hair, and larger debris without pushing it around. The soft design also prevents scratching, although this floorhead can't use the "Auto Suction" feature of the V11.
Additionally, the V11 cordless stick vacuum cleaner series has the suction power to rival many corded vacuums, so it's capable of cleaning between floorboards. Plus it comes with a miniature motorised tool for pet hair.
In short, the combination of a powerful motor and Soft Roller floorhead makes the Dyson V11 Absolute great for hardwood floors. The lightweight cordless design and handheld mode also make it a versatile model. The biggest drawback is the price – this is one of the most expensive vacuum cleaners on the market. Click here to view the price of the V11 Absolute.
Note: If the price of the V11 is too high, it's worth noting that the soft roller cleaner head is also available on other Dyson cordless vacuums, including some V10 models (see our V10 model comparison) and the V8 Absolute. These vacuums aren't as advanced as the V11, but are cheaper and still provide excellent hard floor performance.
Key Features:
Excellent all-round performance and a hard floor floorhead
Great suction for a cordless
60-minute run-time
Specification:
Power: Cordless
Capacity: 0.76L
3. Vax Gator H85-GA-B10 (Best Handheld for Hardwood)
The Vax Gator H85-GA-B10 is a compact handheld vacuum cleaner that's considerably cheaper than others on this list. It doesn't have the suction power or battery run-time to rival full-size vacuums, but if you need a convenient vacuum for small cleanups it's one of the best options for hardwood floors.
The Vax H85-GA-B10 is a lightweight vacuum cleaner that's designed for cleaning up spills on both carpets and hardfloors. It has a 0.3 litre capacity and can last for approximately 15 minutes on a single charge.
A useful feature is the built-in crevice tool. This can be extended when needed, making the Vax one of the more convenient handheld vacuums for getting into tight spaces.
The Vax also performs well on hardwood floors. ​It provides surprisingly good suction, so it's great for quick spot cleaning. It can even handle larger debris such as cereal or cat litter.
It's important to have realistic expectations of the H85-GA-B10 though. It's a small and inexpensive vacuum cleaner, so it doesn't come close to the suction power of other models. It also doesn't do a great job with pet hair, so it's probably not the right model if you have a cat or dog.
For small cleanups, however, it's a great option that's handy to have in the house. It's also one of the best handheld vacuums for hardwood floors. Click here to view its price.
Key Features:
Built-in crevice tool
15-minute run-time
Decent hardwood pickup for a handheld
Specification:
Power: Cordless
Capacity: 0.3L
4. Shark Lift Away NV681UK (Best Upright for Hardwood)
The Shark NV681UK is an energy-efficient upright bagless vacuum that provides great performance on almost any surface. It feature's Shark's powered lift-away technology, which allows you to detach the cylinder for greater manoeuvrability, along with advanced features such as LED lights. The NV681UK is also great for cleaning hardwood floors, as you can switch off the rotating brush bar to avoid scratching.
With its lift-away design and swivel steering, the NV681UK is easy to move around the house. A lack of mobility is a common complaint for upright vacuums, so this is a welcome design choice. The vacuum also comes with anti-allergen technology, 6.1kg weight and LED headlights to show up dust and dirt.
One of the best things about the Shark is its powerful suction. The vac is capable of getting rid of dust and dirt in floorboard cracks, plus it performs well on debris of any size. Importantly, you can switch off the powered brush bar for use on delicate surfaces.
A downside is that it's not as effective on laminate flooring as hardwood – especially with fine dust. So, if your home has a mixture of wooden and laminate floors, you might want to look at one of the other options.
Even so, we think the Shark Powered Lift Away is the best upright vacuum for hardwood floors. It's powerful, easy to use and provides great cleaning performance. Click here to view its price.
Key Features:
Powered brush bar can be switched off
Excellent suction power
Lift-away design for cleaning stairs and high areas
Specification:
Power: 750W
Capacity: 1.1L
5. Dyson Big Ball Multi Floor 2
One of Dyson's latest vacuums is the Dyson Big Ball Multi Floor 2 (which replaces the Dyson Cinetic Big Ball Musclehead and Ball Multifloor). It's a cylinder bagless vacuum cleaner that comes with the self-adjusting "Pneumatic" floorhead. Most importantly for this article, it does a fantastic job at cleaning hardwood floors.
The Big Ball Multi Floor 2 is a relatively heavy vacuum cleaner, at approximately 8kg, but makes up for this with a manoeuvrable "Ball" design. Dyson has got rid of its "Cinetic" filter design and gone back to standard washable filters, although the Multi Floor does an excellent job at keeping allergens trapped.
One of the best features is Dyson's "Pneumatic" floor head that automatically adjusts depending on the type of floor. This can save time if your home has a mixture of carpet and hardwood floors, as you won't need to switch the head. It's also great if you have rugs on your hardwood floors, as you can transfer between each surface without stopping.
The floor head provides excellent pickup on both hardwood and laminate floors, while being low profile for cleaning under furniture. It's powerful enough to get rid of dirt stuck between floorboards and can also handle larger debris.
An interesting feature is the self-righting design. This means the vacuum rights itself after falling over, which is especially useful if you're dragging it between rooms.​
Other features include automatic cable rewind, a 3.3 metre hose and a 1.5 litre dust capacity. ​It also comes with a crevice nozzle, combi tool and dusting brush – although be aware that it doesn't include a turbo tool for pet hair.
A bonus is that the Ball Multi Floor is cheaper than many vacs from Dyson. With an RRP of £250, it provides great value for money. Click here to view its price.
Note: If you have pets, we recommend the Dyson Big Ball Animal 2 instead. It's more expensive, but comes with a turbo tool that makes quick work of pet hair.​
Key Features:
Self-adjusting floorhead
Ball design for greater mobility
Powerful suction
Summary
Hardwood floors present a difficult challenge to many vacuum cleaners. Aside from being easier to scratch, it's common for a vacuum to push dirt across the floor rather than suck it up. Fortunately, the best vacuum cleaners for hardwood floors avoid these problems while providing excellent cleaning performance.
Our top recommendation for this type of flooring is the excellent Miele C3 Cat & Dog. The EcoTeq floorhead is great for hardwood and the vacuum ​excels at cleaning hair, dust and larger debris. If you're looking for a cordless, the Dyson V11 Absolute is the best option (although it's expensive).
Do you have any questions about choosing the best vacuum for hardwood floors? Or do you have any other questions about cleaning wood floors? Let me know in the comments!​
We're sorry you didn't find this article useful!
Please tell us how we can improve this content in the box below: