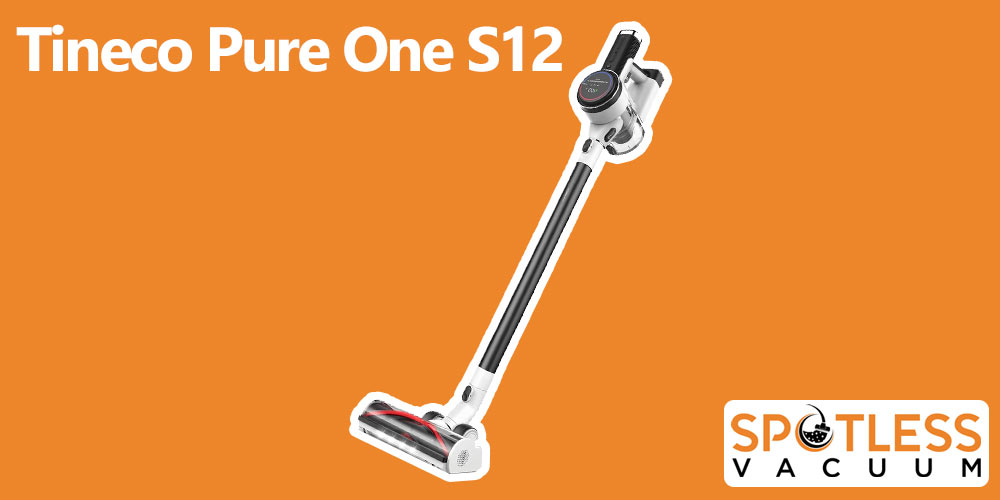 Our Verdict: The Tineco Pure One S12 is an excellent cordless vacuum that's genuine competition to the Dyson range. The "Auto" suction mode is great for nearly all carpets, while the advanced features are a step above most other cordless vacuums. We don't think it can quite match the best models for hard floor cleaning – although it's still very good on laminate and tiles.
Pros:
Advanced LED screen showing power and battery life
Strong suction that's great for almost any cleaning task
"Auto" mode for automatically adjusting suction depending on the amount of dirt
Easy to steer around the home
High-quality tools including a mini turbo tool
Cons:
Not the best vacuum for hard floors (unless you buy the separate soft roller floorhead)
Expensive (although cheaper than the Dyson V11)
Small dust capacity
Not the most hygienic emptying system
The Tineco Pure One S12 is a direct competitor to cordless vacuums from Dyson and Shark. Read our full review for this vacuum's pros, cons, and cleaning performance.
Tineco doesn't have the brand recognition of companies like Dyson, Hoover, or Miele, but they're quickly making a name for themselves in the vacuum market. The Pure One S12 is their premium cordless model, so it comes with advanced features like an LED screen, automatic suction adjustment, smartphone integration, and a direct-drive floorhead.
We think the Tineco Pure One S12 is a brilliant cordless vacuum cleaner. It's particularly effective for cleaning carpets, where the powerful brush bar does a great job at agitating carpet fibres to remove more dirt and hair. We also love the LED screen and automatic suction mode.
How does the Tineco compare to similarly priced models, like the Dyson V10 and Shark IZ251UKT? And is this smart vacuum worth the high cost? Read our Tineco Pure One S12 review to find out.
Overview of the Tineco Pure One S12's Features
Powerful cordless vacuum cleaner with a premium price
Direct-drive floorhead for deeper cleaning
LED screen showing battery life, suction power, and other important information
Handheld mode and multiple tools
Up to 50 minute run-time
"Auto" mode which automatically adjusts suction depending on the amount of dirt
Mini turbo tool for pet hair and upholstery
Appearance, Features & Design
There's no doubt that the Tineco S12 is a stylish vacuum cleaner. We like the sleek white colour scheme and futuristic LED screen, which displays statistics such as the current suction power and remaining battery. The screen's outer ring, which lights up red or blue depending on whether the "Auto" mode is increasing or reducing suction (effectively how dirty the patch of floor is,) is also a beautiful touch.
We're going to be talking a lot about how the Tineco compares to Dyson cordless vacuums in this review, as the Pure One S12 is similarly priced to the Dyson V10. The V10 doesn't have a built-in screen – you need to pay more for the V11 to get this feature – so this is an area where we think the Tineco is a clear winner.
Like the Dyson stick vacuums, you can detach the S12's wand to convert it into a handheld vacuum. We always think this is a useful feature that increases the versatility of the vac, which is why it's become the standard design of most cordless vacuums.
It also has features like an "Auto" suction mode called iLoop, which we'll discuss in the performance section, and a slider for adjusting suction power.
There's even built-in Wi-Fi, which allows you to sync the vacuum with the Tineco App. This is really a gimmick, as most of the information is displayed on the LED screen anyway, but the app does make it easier to track when the filter needs to be cleaned.
Unfortunately, the Tineco has a relatively small 0.6 litre dustbin capacity. This is around 20% smaller than the Dyson V11 Absolute, so you'll need to empty it more frequently. 0.6 litres is still around average for a cordless vacuum though, so this isn't a major criticism.
Manoeuvrability and Ease of Use
As with most cordless vacuums, we think the Tineco is easy to manoeuvre around the home. It's not the lightest model we've reviewed, but it's not too heavy and the floorhead pivots for smoother cleaning.
The Pure One S12 uses a trigger system, but Tineco has included a switch to keep the trigger held down if you don't want to hold it manually. We really like this addition, as a common complaint about Dyson cordless vacuums is that the trigger can be tiring to hold.
It's also a surprisingly quiet vacuum cleaner, especially considering the powerful suction.
A minor drawback is that the vacuum doesn't stand up on its own – although this is a common issue with cordless stick vacuums. To help with this, Tineco has included a wall mount for storage and recharging.
We also wish that the Tineco wouldn't default back to "Auto" whenever you let go of the trigger. It would be more convenient if it restarted on its previous suction setting, although the latch to hold down the trigger makes this less of an issue.
Filtration
The Tineco provides decent filtration, although we think Dyson's "Whole Machine Filtration" is more effective. As with all bagless vacuums, we recommend emptying the vacuum outside to prevent allergens from escaping into the house.
An innovative feature of the Tineco is that it comes with a pre-filter cleaning tool. This attaches to the vacuum like the other accessories, and allows you to clean the filter without getting messy. To maintain optimum performance, it's a good idea to clean the filter after each use.
Emptying & Cleaning
Emptying the dust bin is one area where we think the Tineco lags behind both the Dyson V10 and V11. Instead of having a collar to push out dust and dirt, it relies on gravity alone. This means that fluff can often get stuck and need to be pulled out by hand.
With that said, the Tineco is easy to empty, which is vital for a cordless vacuum that fills up quickly. It's just not as hygienic as some other vacuums.
Battery Life
Like the Dyson V11, the Tineco has an "Auto" suction mode. The main purpose of this mode is to conserve battery life, as the vacuum automatically identifies how much suction is needed for a particular cleaning job.
How does this affect the battery run-time though? Tineco claims that the Pure One S12 has a run-time of up to 50 minutes, but this is only when using low power and a non-motorised tool. When on "Auto" mode (which defaults to medium suction power) and using a powered tool, you can expect around 25-30 minutes run-time depending on how much debris you're picking up. This is similar to the Dyson V10, although it can't match the 80-minute run-time of the dual-battery Shark IZ251UKT.
If you want to manually set the vacuum to "High" power, then the run-time drops to around 10 minutes. While this isn't much time for anything more than quick cleans, it's around standard for a high-end cordless vacuum cleaner – and nearly double that of the Dyson V10. The good news is that you'll rarely need to use full suction power, as the vacuum provides excellent cleaning performance when on "Auto."
A slight drawback is that the S12 only shows the remaining battery life as a percentage. The Dyson V11 shows you the exact minutes and seconds remaining, depending on which mode and tool you're using, which we think makes it easier to judge how much cleaning time you have.
A bigger issue is that you can only charge the battery when attached to the wall mount, which could be a problem if you don't plan on attaching the dock to your wall. We would prefer that you could attach the charger directly to the vacuum, like with Dyson vacs.
Note: The more expensive Pure One S12 Plus comes with an extra battery, which effectively doubles the vacuum's battery life. This is not included with the regular Pure One S12 in the UK. There is often confusion about this, as the US version (and earlier versions in the UK) of the Pure One S12 includes a second battery. You can purchase an extra battery separately though.
Tools & Accessories
Floorhead
The Pure One S12 comes with a single primary floorhead for all surfaces. This has a direct-drive brush bar, which is able to stir up carpets to remove more dirt and dust. There are also LED headlights to help you see hidden dust and dirt, which is a useful feature.
As we mentioned earlier, the floorhead is easy to steer around furniture and other objects. The extra rear wheels help with this. It doesn't have anti hair-wrap technology, like the Shark IZ251UKT, so you'll need to cut out hair periodically.
Other Tools and Accessories
A mini power brush is included with the Tineco. This is similar to Dyson's mini motorised tool, as it's a small tool with a powered brush bar for cleaning stairs, upholstery, and car interiors. It's also great for removing pet hair.
There are also several non-motorised tools. These include a crevice nozzle, 2-in-1 dusting brush, and a small hair cleaning tool.
All of the tools are simple to click in and out of position. There's also storage for three tools on the wall mount. Unfortunately, Tineco hasn't included a clip for attaching accessories to the wand, which is a feature of the Dyson V11.
Suction Power & Cleaning Performance
As you would expect from a premium cordless stick vacuum cleaner, the Tineco S12 provides excellent all-round cleaning performance. It also has Tineco's iLoop system, which is an automatic suction mode that adjusts the power while you're vacuuming, making this a smart vacuum cleaner.
There are a couple of interesting differences between the Tineco S12 and the Dyson V11 in regards to how the vacuum adjusts suction power though.
When in auto mode, the Dyson changes suction depending on the type of surface. In contrast, the Tineco adjusts based on the density of debris, which is detected by the iLoop dust sensor. This means that the vacuum will increase suction when it detects there's a lot of debris to pick up, but otherwise will stay at its default strength. While this works most of the time, it can be fooled by dirt that's deep in carpets (although there's always the option of manually increasing suction when needed.)
The upside is that the iLoop smart suction system works with all tools and accessories, not just the main floorhead. The Dyson V11's automatic system only works with the primary floor head and mini motorised tool.
Secondly, the Tineco provides full suction control when you don't want to use "Auto" mode. Instead of needing to choose between three pre-defined settings, the Tineco has a slider to set the suction to whatever you need, which is great for balancing suction power against battery life and difficulty pushing. This provides excellent control, but is a more manual solution than the Dyson V11.
Most importantly, the Tineco Pure One S12 provides excellent cleaning performance when in "Auto" mode. This is crucial, as it means you can conserve battery life by using "Auto" without sacrificing much cleaning power.
You'll need to switch to manual mode power settings quite frequently though. While the "Auto" mode does a good job most of the time, there are certain types of cleaning where you'll need to force the vacuum to give you more suction. Vacuuming larger debris is an example of this issue, as sometimes the iLoop system doesn't realise that it should increase suction.
Carpets
The Pure One S12 is an excellent cordless vacuum for cleaning carpets. Whether you set suction manually or use the "Auto" mode, it does a great job of pulling out dirt and dust from deep in carpet fibres.
If we have a small complaint, it's that the edge cleaning on carpets isn't perfect. We've seen much worse though!
Hard Floors
It's a decent cordless vacuum for hard floors, including hardwood and laminate, although we don't think it quite matches the best models in this regard. While it's good at picking up smaller debris and fine dust, it struggles more with larger objects, such as cereal. The Tineco also isn't the best vacuum for picking up debris from between floorboards, although it's better than most cordless vacuums when performing this tricky task.
It's worth noting that the Pure One S12 Plus – a more expensive model – comes with a hard floor head that's similar to the Dyson Soft Roller. This is much more effective at picking up larger debris, so if you have hard floors in your home it's probably worth spending a bit more to get this tool.
Stairs
Having a handheld mode (combined with the vacuum's excellent suction) makes the Tineco Pure One S12 a great choice for cleaning stairs. It's not the best for edge cleaning though, so you'll probably need to follow up with the crevice tool.
Pet Hair
The Tineco makes quick work of pet hair. The direct-drive floorhead is great for removing pet hair caught in carpets, while the powerful suction pulls up hair from hard floors.
For cleaning awkward areas, the mini tool is also brilliant at pulling out both long and short hairs.
Price & Value for Money
The Tineco Pure One S12 is an expensive vacuum cleaner, but we still think it provides great value for money.
It's similarly priced to the Dyson V10, and offers much of the same performance, along with extra features like the LED screen and headlights. While it can't match the Dyson V11 series for raw cleaning performance, it's also around £100 cheaper (at the time of writing.)
Specification Table
| Ninja Column 1 | Ninja Column 2 |
| --- | --- |
| Price Range | ££££ |
| Maximum Run-Time | 50 minutes |
| Weight | 2.88 kg |
| Capacity | 0.6 litres |
| Type | Bagless |
| Motorised Tool | Yes |
| Hose | No |
| Filter | Cleaned With Self-Cleaning Tool |
Comparison With Other Vacuums
Tineco Pure One S12 Vs Dyson V11
The Dyson V11 is probably the closest competitor to the Tineco Pure One S12 in terms of design, as it also has a built-in screen and automatic suction adjustment. We think the Dyson V11 Absolute provides stronger cleaning performance, but it's also considerably more expensive.
If you want the best cordless vacuum, then the Dyson V11 Absolute (or Dyson V11 Outsize if you need more dust capacity) is our top pick. The Tineco Pure One S12 comes close to matching it, however, for less money.
Tineco Pure One S12 Vs S12 Plus
The difference between the standard S12 and S12 Plus is what's included in the box. Both vacuums have the same design, but the S12 Plus comes with an additional soft roller floorhead that's brilliant for hard floors. It also comes with several other non-motorised accessories.
If you're not sure which to buy, we recommend getting the standard S12. You can always buy the soft roller floorhead separately if you decide you need it.
Tineco Pure One S12 Vs Dyson V10
The Tineco Pure One S12 is a similar price range to the Dyson V10, so it's interesting to see how the models compare. Both are excellent cordless vacuum cleaners, but we think the Tineco slightly edges the comparison when it comes to features and carpet cleaning performance. The V10 doesn't include a screen, headlights, or swappable batteries, and its high powered mode lasts for less time.
Frequently Asked Questions
Is Tineco Better Than Dyson?
At first glance, Tineco doesn't seem to have the pedigree of brands like Dyson, as the company was only founded in 2018. The parent company Ecovacs Robotics Group, however, has decades of experience researching vacuum cleaners, so Tineco certainly has access to the expertise needed to build excellent vacs.

This makes it difficult to say which brand is "better." Instead, it makes more sense to judge each model on its merits.
Does The Tineco S12 Have A Detachable Battery?
Yes, you can remove the Tineco's battery without using a screwdriver. If you need a longer run-time, this feature allows you to purchase a second battery that can be swapped when you want to continue cleaning.
What Is The S12's Dust Capacity?
The Tineco S12 has a 0.6 litre dust capacity. This is around average for a cordless vacuum cleaner, although it fills up fast due to its strong suction and cleaning performance.
Verdict
The Tineco Pure One S12 is a brilliant cordless vacuum cleaner. It provides excellent all-round cleaning performance when in "Auto" mode, especially for carpets, stairs and pet hair. The S12 also includes advanced features, such as the LED screen and iLoop system, for a lower price than the corresponding Dyson model (the Dyson V11.)
It's not perfect though. The bin emptying system can be messy, as there's no internal collar to push out dirt and dust. It's also not the best on hard floors – you'll need to purchase the additional soft roller floorhead to solve this – and the "Auto" mode needs to be manually overridden for some tasks.
Even so, the Tineco is definitely an option to consider if you like the features of the Dyson V11 but want a cheaper alternative.