Our Verdict: We found the Gtech Multi Mk2 to be a useful vacuum for quick clean-ups. It's lightweight, easy to use, and the powered tool does a decent job of cleaning pet hair. We also liked the long wand tool, which is great for cleaning ceilings and skirting boards. We don't think it's quite as powerful as models like the Dyson V7 Trigger though – particularly for stubborn dirt in carpets.
Pros:
We found the Gtech easy to use and convenient for quick cleaning jobs
Lightweight and compact design
Headlight is useful for illuminating dirt
Easy to empty (although we found the bin can be stiff to remove)
Long wand tool is great for ceilings and skirting
Cons:
Awkward shape to use in small cars
Not as powerful as the top handheld vacs
Only a 20-minute battery life
---
With its "Power Brush" tool, LED headlight, and lightweight design, the Gtech Multi Mk2 is an appealing handheld vac. Read our full review to find out the pros and cons of this popular vacuum, along with who should consider buying it.
The Gtech Multi Mk2 is a cordless handheld vacuum cleaner that's designed for quick clean-ups, car interiors, stairs, and upholstery. It's a lightweight model with several accessories, along with a powered brush for deeper cleaning.
We found the Gtech to be a great choice for quick clean-ups. Our tests also showed it's an excellent vacuum for cleaning skirting boards and ceilings, although the turbo tool only provides average performance on carpeted stairs.
How does the Multi Mk2 compare with other handheld vacuums though? And is it worth the price? Read our Gtech Multi Mk2 review to find out!
Overview of the Gtech Multi Mk2 Handheld's Features
Compact and lightweight handheld vacuum
LED headlight to make it easier to see crumbs or dirt
Includes a Power Brush tool for agitating the surface and removing more dirt
Also has a long dusting brush wand for above-floor cleaning
Great for stairs and upholstery
Also comes with a crevice tool and dusting brush
20 minute run-time and four hour charging time
Gtech Multi Mk2 Appearance & Design
The Gtech Multi Mk2 has a similar style to the Gtech AirRam Mk2, including the distinctive grey and green colour scheme. We think it's an attractive handheld vacuum that manages to look modern without appearing garish – which isn't something we can say for all vacs!
While the Gtech is larger than the smallest handheld vacuums, it's a relatively compact model that's also lightweight. Weighing just 1.6kg, we found it easy to carry around the home, plus the small size is convenient for storage.
On the other hand, it's a bit too big for tight spaces. This didn't matter during most of our tests, but became an issue when trying to clean a car interior (more on that later).
A bonus is that the Gtech comes with a headlight for illuminating wherever you're cleaning. We found this to be a really useful feature when cleaning below furniture, car interiors, or anywhere else without much light. It's also not a feature we've seen on many handheld vacuums.
The Gtech Multi Mk2 only has a dust capacity of 0.4 litres though. This isn't the smallest capacity handheld we've reviewed (the Shark WV200UK has a tiny 0.25 litre dust canister), but you should be prepared to empty it after each use. You may even need to empty it halfway through a cleaning session if you're picking up a lot of dirt.
Gtech Multi Mk2 Filtration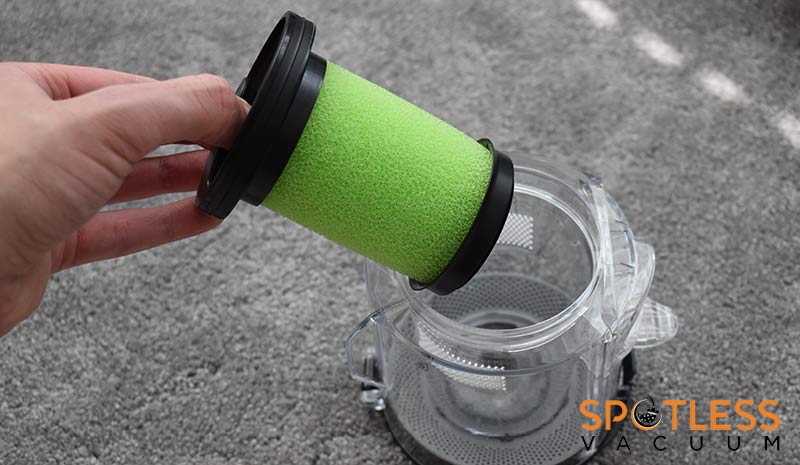 The Gtech Multi Mk2 comes with a washable lifetime filter. Removing the filter is as simple as taking off the bin and pulling it out of the canister.
You can clean this by rinsing under cold water, but make sure it's completely dry before putting it back into the vacuum.
There's nothing wrong with this filter, but it's not the most effective we've seen. We also found the filter and bin combination to be less tightly sealed than some of the other vacuums we've tested.
For this reason, if you suffer from an airborne allergy, then we recommend a vacuum with better allergen retention (preferably a bagged vacuum so you can empty it without releasing dust.)
Gtech Multi Mk2 Emptying & Cleaning
One of things we liked about the the Gtech Multi Mk2 is how easy it is to maintain. Every part is simple to access and straightforward to remove, which is important for a vacuum that's designed for convenience.
The dust canister can be removed from the vacuum body for emptying. Once detached, you press a small lever to open the trap door over a bin. This is a quick and simple emptying process, although it's best to use an outdoor bin if anyone in the household suffers from allergies.
While this system is quick and easy, we don't like how the bin just pulls away from the machine without needing to press a button or lever. Several times we accidentally failed to push the bin on securely before vacuuming, which is an easy mistake to make when there's not a clear signal that it's fitted correctly.
The emptying system also relies on gravity rather than pushing out dirt, dust, and other debris. We found that clumps often got stuck during the emptying process, meaning that we needed to pull them out by hand.
Detaching the canister also allows you to remove the filter for cleaning. Again, this is straightforward, so you don't need to fiddle with lots of clips and latches to get to the filter.
We also liked how easy it is to remove the brush bar from the Power Tool for cleaning. Taking out the bar is as simple as turning the side panel to "Unlocked" and pulling it out, which makes it easy to clean (you'll need to remove hair regularly – especially if you have pets!)
As a bonus, Gtech has included a tool for cutting away hair that's wrapped around the bar too. We liked this tool, although it's a small accessory that's likely to get lost.
Gtech Multi Mk2 Battery Life
The Gtech has a 22V lithium-ion battery. When fully charged, it provides a run-time of approximately 20 minutes.
This is shorter than the Dyson V7 Trigger, which has a 30-minute run-time, but long enough for quick clean-ups. We don't think 20 minutes is enough time for more thorough cleaning sessions – but that isn't really what the Multi Mk2 is designed for.
The good news is that we found that you really do get 20-minutes run-time when using the non-motorised tools. The battery life does drop a bit when using the Power Tool, but this is to be expected when using a motorised brush bar.
A full recharge takes four hours, although there's the option of a one hour charge for a quick burst of cleaning. We like that the battery can be removed for charging or replacing, and there are four indicator lights showing the vacuum's current battery level.
Gtech Multi Mk2 Power Brush, Tools & Accessories
The Gtech comes with a range of attachments, which greatly improve the vacuum's versatility.
Many handheld vacuums rely on suction power alone, so it's common for these models to struggle with stubborn dirt, hair, and dust.
That's why one of Gtech's standout features is the Power Brush, which is a miniature floorhead with rotating bristles. We found that this significantly improves the vacuum's cleaning performance, particularly on carpets, upholstery, and car interiors.
Like most vacuums, the Gtech also includes a crevice tool and dusting brush. These are decent quality, and we like that the crevice tool can be stored within the vacuum body for easy access.
There's no on-board storage for the other tools, however, so you'll need to store these separately. The Gtech also doesn't come with a docking station.
We really like that the Gtech has an extension wand with a dusting brush on the end*. This tools is great for getting rid of ceiling cobwebs and cleaning skirting boards without getting a bad back.
Sometimes the tools get stuck and need a bit of extra muscle to pull off though. This isn't a major problem, but can be an annoyance when you want to change tools quickly.
* Note: Newer batches of the Multi Mk2 (including our test model) should include an extension tube with dusting brush, but this seems to depend on where you buy from. This tool is handy for cleaning in ceiling corners, especially compared with the small size of most dusting brushes. If it's not included when buying from your retailer, you can purchase it separately.
Gtech Multi Mk2 Suction Power & Cleaning Performance
As a handheld vacuum, the Multi Mk2 isn't designed to replace a full-size vacuum. Instead, it's built for quick clean ups or tasks that are awkward with a full-size vacuum (such as car interiors, upholstery, and staircases.)
Overall, we found it to provide strong performance for a handheld. For example, it's great for cleaning dry spills on hard floors, or getting rid of dust on blinds or skirting boards.
It's less effective on carpets, although it's still capable of tackling most dirt or dry spills.
People who hate Dyson's trigger system will also be pleased to know that the Gtech has a regular On/Off switch, rather than a trigger system. This is great for people who struggle to hold down a trigger for long periods, or who just don't want the vacuum to switch off as soon as they let go of the trigger.
A drawback is that the Gtech doesn't have multiple power options. This is a shame, as a lower power mode is useful when you want to conserve battery life.
Around The House
We found the the Multi Mk2 to be an effective handheld vacuum for cleaning around the home. The motor generates decent suction power, so it provides effective pickup and is great for cleaning a variety of surfaces.
Whether you're vacuuming a sofa, skirting board, or hard floor, the Gtech never feels underpowered. Most dirt and debris is picked up with ease, making this a great choice as a secondary vacuum for quick clean-ups.
The only time we noticed the vacuum struggle is when trying to remove hair or fluff from carpets. It doesn't quite have the power to do this effectively – even when using the Power Tool – so cleaning this type of job may take a few passes.
We're glad that Gtech has included several tools with the Multi Mk2. These make the vacuum much more versatile than if it had a fixed Power head.
However, one complaint we have is that the crevice tool is quite short. As you can see from the photo above, it's not long enough to get into really tight spaces (such as down the side of a fridge).
Most of the time, we found ourselves using the extension wand when cleaning around the home. This tool makes it much more convenient to use the Gtech Multi Mk2 for cleaning at every height around the home, especially as it's lightweight and feels balanced to hold.
Of course, this tool doesn't have a powered brush bar, so you do sacrifice some performance when using it compared with the Power Brush.
When you need more cleaning performance, the Power Brush does a solid job at removing pet hair from carpets and sofas, as the rotating bristles agitate fibres to remove more hair. The strong suction power (for a handheld) also allows the vacuum to pickup dirt, dust, and other debris from hard surfaces – and even between floorboards.
Stairs
As you would expect, we think the Multi Mk2 is a brilliant vacuum for cleaning stairs. The lightweight and cordless design means it's a much safer alternative to a bulky upright or cylinder, plus it has enough power to clean effectively on most surfaces.
If you're tired of lugging a heavy vacuum up and down your staircase, then the Multi is a great choice.
Car Interiors
Car vacuuming is one of the areas where this vacuum should shine – and it's certainly much more convenient than a corded vacuum.
When the Power Brush is attached, we found that it does a decent job of picking up dirt and other debris. The cordless design means you don't need to worry about running an extension lead from your home, while the headlight is also useful in a dark car interior!
The shape of the vacuum can sometimes feel awkward in tight car spaces though. It also struggles to pickup larger debris or hair that's been ground into the seats.
Note: Gtech also sells a Car Accessory Kit that can be used with the Multi Mk2.
Gtech Multi Mk2 Price & Value for Money
The Gtech Multi Mk2 is a premium handheld vacuum. It's pricier than most handheld vacuum cleaners, although around the same price as the Shark WV200UK and a bit cheaper than the Dyson V7 Trigger (prices change all the time so we can't be more precise than that!)
Is it worth the money though? If you need a convenient handheld that has enough power to clean almost any surface, then we think it's reasonably priced – especially if you can find it for sale (which is often the case.) It's more powerful than cheaper handhelds, particularly when the Power Brush is attached, and is a versatile choice for home cleaning. It also has a high build quality and is a durable vac.
With that said, it's not a replacement for a full-size vacuum, so if you can only buy one vac then save the money and buy a full-size upright.
Gtech Multi Mk2 Specification Table
| Ninja Column 1 | Ninja Column 2 |
| --- | --- |
| Price Range | ££ |
| Battery | 22V |
| Maximum Run-Time | 20 minutes |
| Weight | 1.6 kg |
| Capacity | 0.4 litres |
| Type | Bagless |
| Motorised Tool | Yes |
| Hose | No |
| Filter | Washable |
Comparison With Other Handheld Vacuums
Multi Mk2 Vs Multi Mk2 K9 – What's the Difference?
The pricier Multi Mk2 K9 is similar to the Multi Mk2, with a few key differences. The K9 version comes with pleasant-smelling filter tabs to help cover up pet odours. It's also a more durable choice, as the K9 is built with more zinc alloy components than the Multi Mk2 (which is largely plastic.)
In terms of cleaning performance, however, there's no difference between the two vacuums. Both have a 20-minute run-time, 22V battery, Power Brush, and a 0.4 litre capacity.
Multi Mk2 Vs Dyson V7 Trigger
The Dyson V7 Trigger is one of our top picks for a handheld vacuum cleaner. It's more expensive than the Multi Mk2, but we think it provides stronger suction and better all-round performance. The Dyson is also lighter, has a longer run-time, and is quicker to recharge.
There are still some advantages to the Gtech though. Aside from being cheaper, we like the Multi's built-in headlight and on/off switch (rather than a trigger.) We also like that the Gtech comes with an extension brush, as the Dyson doesn't include a similar tool.
| Ninja Column 1 | Vacuum 1 | Vacuum 2 |
| --- | --- | --- |
| | Gtech Multi Mk2 | Dyson V7 Trigger |
| Bag | Bagless | Bagless |
| Filter | Washable | Washable |
| Price Range | ££ | ££ |
| Maximum Run-Time | 20 | 30 |
| Weight (kg) | 1.6 | 1.38 |
| Capacity (Litres) | 0.4 | 0.54 |
| Motorised Tool | Yes | Yes |
Frequently Asked Questions
How Lightweight Is This Vacuum?
The Gtech Multi Mk2 weighs 1.6kg. This makes it a lightweight cleaner, although it's not the lightest handheld vacuum we've reviewed. For comparison, the Dyson V7 Trigger weighs 1.38kg, while the smaller Shark WV200UK weighs just 0.6kg.
Do Long Hairs Get Wrapped Around The Brush?
Yes, during our testing some long hairs did get wrapped around the rotating brush. The Gtech doesn't include a feature like Shark's "anti hair-wrap", so this is inevitable. The good news is that it only takes a moment to remove the brush bar and cut away hair.
What's Included in the Car Accessory Kit?
The basic Multi Mk2 is already a great choice for cleaning car interiors, but Gtech also sells a separate car cleaning kit. This includes several extra accessories, such as a flexible crevice tool (which is similar to a small hose), soft dusting brush for delicate surfaces, and a smaller upholstery tool.
This kit isn't essential. But if you're going to be cleaning your car interior regularly, it's worth spending a bit extra to get it – especially for the flexible crevice tool.
Gtech Multi Mk2 Verdict – Who Should Buy It?
If you're looking for a handheld vacuum for cleaning stairs, skirting boards, and other awkward areas, then the Gtech Multi Mk2 is a great choice. We also think it's a great choice for cleaning up small dry spills – particularly on hard floors.
It's not for everyone though. We don't recommend it if you suffer from allergies, as it's not the best for retaining allergens. It can also be awkward to use in small cars and is quite expensive.
For quick clean-ups and stair cleaning, however, we think it's one of the best handhelds on the market. It's also an excellent complement to the Gtech AirRam Mk2, which is only suitable for floor cleaning.