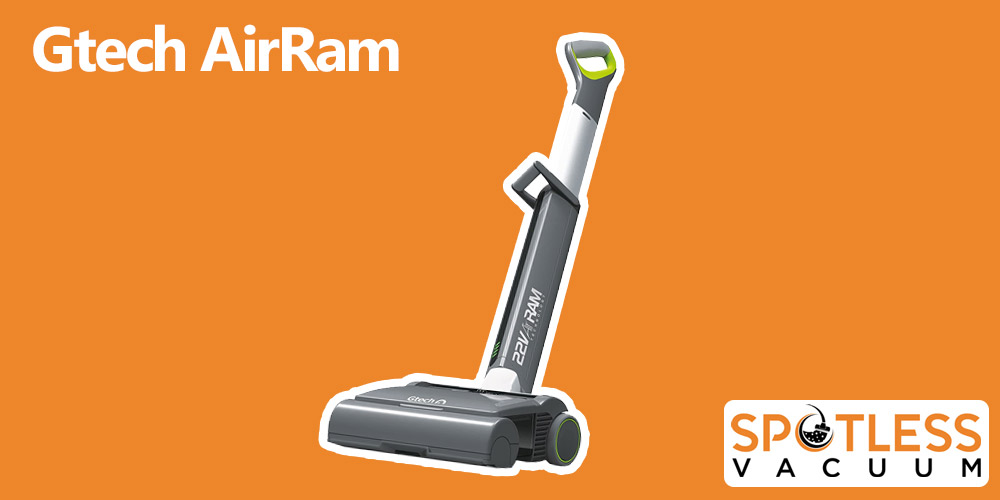 Our Verdict: The Gtech AirRam was an excellent vacuum for its time – but it's since been overtaken in both cleaning performance and features by many cordless vacs (including the Gtech AirRam Mk2.) We've adjusted our review score to reflect this.
Pros:
40-minute run-time provides plenty of cleaning on a single charge
We liked the swivel head and low-profile design for cleaning around furniture
Decent suction power for a cordless
Cons:
Loud motor makes it unsuitable if you want a quiet vacuum
No accessories or hose makes this a limited vacuum (although this is partly counteracted by low-profile)
We don't think it can match newer cordless vacuums for cleaning power
As you may know, the original Gtech AirRam has been replaced by the Gtech AirRam Mk2. Here's our review of the original for reference purposes – but we highly recommend reading our Mk2 review instead.
The Gtech AirRam cordless vacuum cleaner might not look as advanced as other cordless vacuums on the market, but don't let that fool you – this is a useful cordless vacuum cleaner with some unique features, as long as you have realistic expectations.
We found the Gtech AirRam to be a solid choice for easier cleaning tasks. For example, if you want to spruce up your living room or kitchen before guests arrive, then it's a lightweight and convenient choice than can handle most dirt.
It doesn't have the power to really dig into carpets and remove deep dirt, hair, and other debris though. We also don't like that it doesn't come with any tools or accessories, as this limits how it can be used (especially in comparison to Dyson cordless vacuums).
This vacuum certainly isn't designed to replace your regular vac, but it's a useful secondary tool to have in your house. Let's take a closer look at its features and performance.
Important: Want to learn about the Gtech AirRam's newer sibling, the AirRam Mk2? Click here for our in-depth review of the Gtech AirRam Mk2.
Overview of Gtech AirRam Features
Cordless vacuum that's designed specifically for cleaning floors.
Decent suction power on both hard floors and carpets.
Simple LED lights that tell you how long until the vacuum is fully charged.
Brush bar to lift dirt off both carpets and hard floors.
Lightweight at just 3.5kg.
A run-time of up to 40 minutes from a single charge due to the Lithium-ion battery.
Low profile vacuum making it easy to clean under furniture.
Data connection between the vacuum and a PC (via USB) for calculating energy saved and battery life.
In-Depth Look at the Gtech AirRam
The AirRam was wildly popular when it was first released. It quickly became one of the best-selling cordless vacuums, due to its simple design and reasonable performance.
The key features of this vacuum are the 40-minute run-time, low profile floorhead for getting under furniture, and the "bale" system for compacting dirt (more on that later). We like all of these features, as they make the Gtech AirRam easier to use around the home. Let's take a closer look at the AirRam and how it compares to other cordless vacuums.
Note: There is a newer version of the AirRam, the AirRam Mk2, now available.
Appearance, Features and Design
The AirRam is a stylish vacuum with a sleek grey colour scheme and low profile design. It was designed before most cordless vacuums converged on the stick/handheld format, which is why it looks very different to most competing vacuums (such as the Dyson V7 series.)
We found the AirRam to be easy to assemble when you get it out of the box, and it's obvious from the moment you unbox it that it's a high-quality and lightweight vacuum cleaner.
An interesting feature of the AirRam is that it doesn't spin dirt into a canister, like the vast majority of cordless vacuums. Instead, it compacts dirt and other debris into "bales" in the floorhead, which saves energy and allows the vacuum to increase its relative capacity. It's always great to see innovation in the vacuum industry, and this is a good example of how a shift in thinking can provide surprising benefits.
We do have a few complaints about this vacuum's design though. It's a shame the design is relatively wide for a lightweight vac, especially as it doesn't come with a crevice tool, hose, or any other accessories. This makes it impossible to use it to clean in tight spaces.
We also thought it was surprisingly loud for a cordless vacuum – it's certainly not the best choice if you're looking for a quiet vac.
Battery Life and Power
The Gtech AirRam cordless vacuum cleaner is powered by a Lithium-ion battery. Lithium-ion batteries usually last longer than alternatives, and in this case the run-time is a generous 40 minutes, which should be ample for all but the most thorough home cleaning session.
However, during our review, we found that you're likely to only get around 30-minutes of actual run-time from the AirRam. This is still plenty for most cleaning tasks, but is something to keep in mind if you need a long-lasting cordless.
Charging the battery, once depleted, takes around four hours, but if you need it urgently a one-hour charge can give you a limited boost in power. There's no docking station though, so you'll need to plug in the AirRam to a regular socket.
Suction Power and Cleaning Performance
We found that the Gtech AirRam provides decent suction power and cleaning performance, without being outstanding. It does a solid job on most tasks, but we don't think it's powerful enough for deep cleaning or to replace your regular vacuum cleaner.
To increase suction power, Gtech have included two fans – while most vacuums have one. This creates greater pressure differences resulting in stronger suction. It also means the AirRam is more adept at handling large chunks of dirt or other substances compared with many competitors.
We found the AirRam does an adequate job at cleaning low-pile carpets. In fact, we were surprised at how much dust and dirt this vacuum picks up in comparison to many other cordless vacuums of its generation.
It performs similarly on hard floors, with most dirt and debris being picked up with relative ease. We found that it struggles more with larger debris though.
We were also impressed by the vacuum's edge cleaning, which is something that's often overlooked when buying a vacuum. It can even handle pet hair, which is a task that most cordless vacuums struggle with.
However, while the suction power of the AirRam is impressive, it doesn't quite have the same effect on thick carpet as high-end corded vacuums. If you're looking for a powerful vacuum to tackle stubborn dirt or piles or pet hair, then this isn't the right choice.
Ease of Use
While the Gtech AirRam provides adequate cleaning performance without being spectacular, we rate it much higher when it comes to ease of use. It's a convenient vacuum cleaner and Gtech has clearly put thought into the small details. Here are a few examples:
The Gtech AirRam is a bagless vacuum cleaner. That means you don't have to worry about emptying fiddly bags, but the downside is that it fills up fast. Fortunately, it takes less than a minute to empty.
It's also worth noting that the vacuum looks like it fills up even more quickly than it does, but it can push down dirt so it holds much more than you initially think.
To empty the vacuum, you just need to remove a tray – which we think is easier than emptying a regular canister.
We found the low profile design of the vacuum means it's easy to clean under furniture and other difficult places. And you don't need to adjust any settings when moving between locations.
The head can swivel 28 degrees, making it easy to manoeuvre around your home. We found that this vacuum is easy to steer around obstacles.
The Gtech is designed to be as simple as possible to use. It only has an on-off switch – that's it. The combination of low profile, swivel and lightweight design (it made our list of the best lightweight vacuum cleaners) make it suitable for almost any floor cleaning task.
So, when it comes to convenient floor vacuuming, there are few models that can match the Gtech AirRam.
Things start to become less positive if you want to use the AirRam for stairs or above floor cleaning though. It doesn't have a wand, hose, or any attachments, so it effectively can't be used for above-floor cleaning. We think this is a big problem for the AirRam and is one of the reasons we don't recommend it more highly.
Filtration
The AirRam comes with washable filters that should last as long as the vacuum without needing to be replaced. These can be quickly removed for cleaning to maintain the efficiency of the vacuum.
Unfortunately, the AirRam doesn't come with a HEPA filter. It also doesn't have a bag, which is why we don't think it's the best choice for allergy sufferers.
Price and Value for Money
The Gtech AirRam is not a cheap model, but it's not overly expensive either. For example, it's considerably cheaper than models such as the Dyson V10 or Tineco S12.
There are good reasons for this price difference though. The AirRam doesn't come with a handheld option (although there is a "Multi" version available), so it isn't as versatile as 2-in-1 cordless vacuums. It's also not as powerful as the best cordless vacuum cleaners.
We still think it justifies the price due to its decent run time and easy-to-use design though.
Accessories
Clearly, the Gtech AirRam cordless vacuum cleaner has been designed with simplicity in mind. It doesn't come with any accessories. In fact, the box contains just the vacuum and charger.
We applaud Gtech for knowing exactly what they want to achieve with the AirRam – produce a long-lasting cordless vacuum that's also lightweight. However, if you're looking for multiple accessories or a vacuum that can clean upholstery, ceilings and other areas as well as the floor – this isn't it.
Gtech AirRam Specification
| Ninja Column 1 | Ninja Column 2 |
| --- | --- |
| Type | Cordless |
| Bag | Bagless |
| Filter | Washable |
| Price Range | ££ |
| Weight (kg) | 3.5 |
| Capacity (Litres) | 0.8 |
| Motorised Tool | No |
| Hose | No |
Specification Comparison With The AirRam Mk2
The Gtech AirRam has been replaced with the Gtech AirRam Mk2. As you can see from the table below, the two vacuums have similar technical details. However, the Mk2 has many other improvements that improve its performance and ease of use. Read our full review to find out more!
| Ninja Column 1 | Vacuum 1 | Vacuum 2 |
| --- | --- | --- |
| | Gtech AirRam | Gtech AirRam Mk2 |
| Bag | Bagless | Bagless |
| Filter | Washable | Washable |
| Price Range | ££ | ££ |
| Maximum Run-Time | 40 | 40 |
| Weight (kg) | 3.5 | 3.2 |
| Capacity (Litres) | 0.8 | 0.8 |
| Motorised Tool | No | No |
Frequently Asked Questions
How Long Does The Gtech Warranty Last?
Gtech offers a 2-year manufacturer's warranty for their vacuum cleaners. However, it's important to read the details of the warranty closely. For example, you must have proof that you purchased the vacuum, otherwise Gtech will charge for repairs. The Gtech warranty also specifies that there's no guarantee for repair due to normal wear and tear, blockages, or accidental damage.
How Long Does The Gtech AirRam Last?
The Gtech AirRam has a maximum run-time of 40 minutes. We found that you're more likely to get 30-35 minutes from a single charge though, as the 40 minute run-time is the maximum in perfect conditions.
Our Verdict
If you need a simple cordless vacuum cleaner that can clean your entire home with one charge, the Gtech AirRam is definitely one to consider. It provides decent value for money, and the manoeuvrable design combined with low profile head makes it convenient to use.
We don't think it's powerful enough to replace a full-size vacuum cleaner though. The AirRam struggles with thick carpets and larger debris, although it's still a capable vacuum in most situations. The lack of any accessories or hose also means it's limited to just cleaning floors, which many people will find restrictive.
To finish, we'd love to hear from you if you own a Gtech AirRam. Do you like its low profile design? Or do you miss having accessories? Let us know in the comments!